Srinagar: The Two-Day International conference on 'Contemporary Discourse on Women in Islam' began at Islamic University of Science and Technology on Monday.  
Head Department of Islamic Studies, Dr. Afroz Ahmad Bisati welcomed the guests and participants and gave a context to need for organizing the conference and the questions revolving around women and Islam.
The keynote speaker, Prof. Obaidullah Fahad (Head, Department of Islamic Studies, Aligarh Muslim University) deliberated on 'Contemporary Thought on Women in Islam' and started off with the diverse narratives revolving around women within Muslim as well as non-Muslim societies, a spokesperson of the varsity said in a statement. "How dual-Jahaliyyah, both of early Islamic society and the modern world have degraded the status of women and it is only the Prophetic normative framework and its implementation, can the renaissance of women rights is possible. He also talked about the complementarity of genders. Gender roles in Islam are simultaneously coloured by two Qur'anic precepts: (i) spiritual equality between women and men; and (ii) the idea that women are meant to exemplify femininity, and men masculinity."
Prof. Abdul Salam Bhat [Dean School of Humanities and Social Science] offered his worthy remarks and deliberated on the ingrained notion of women rights in Islam and its role in discarding the misinformation and misinterpretation about the place of women in Islam. He equally impressed upon the condition of women in Muslim societies and the debates around women specific issues.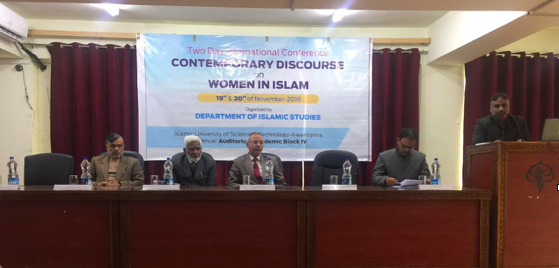 Prof. AM Shah, Dean Academic Affairs, IUST equally started off with the wide-gap between the textual approach to the women and the contexutalist reality of women in the Muslim world.
The inaugural session concluded with the deliberations from the Vice Chancellor of IUST, Prof. Mushtaq Ahmad Siddiqqi. He impressed upon the universal challenges faced by Muslims and humanity across the globe.
"The VC focused on the shaping and impressing on the moral framework of Islam and the role of Islam, not only a religion of past but as a religion for future too and its scope to play a substantial role in shaping the discourse of ethico-moral framework vis-à-vis the dignity of women both on social and spiritual level. Dr. Ali Mohd Bhat concluded the inaugural and offered the vote of thanks to academics, researchers and scholars for participating in the event."