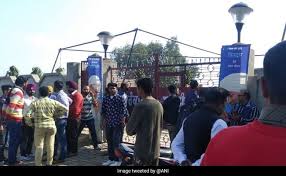 Amritsar: At least three people people were killed while several injured following a a grenade attack at a prayer hall in Amritsar's Rajasansi village located in Punjab province today, the police said.
NDTV quoted the eyewitnesses say that two men on a motorcycle, their faces covered, threw a grenade at the Nirankari Bhawan, where a religious ceremony was on at the time, and fled.
"The incident happened just eight kilometres from the Amritsar airport. Surinder Pal Singh Parmar, a senior officer, said the 10 injured have been taken to the hospital and the bodies of the victims sent for post-mortem," NDTV reported.
According to the TV, every Sunday, hundreds of devotees gather at the hall in Adhiwala village for prayers and kirtan. About 250 people were inside the hall when the attack took place.
Chief Minister Amarinder Singh has announced Rs. 5 lakh for the victims and free treatment for the injured.
"My condolences are with the families of those who lost their lives in this incident. It is an attempt to disturb peace in Punjab. All the security agencies are on high alert and coordinating with each other to maintain peace," said Sunil Jakhar, Punjab Congress chief.
Delhi Chief Minister called it as a "cowardly attack". "We strongly condemn it," he tweeted.
The attack took place amid a high alert that six to seven Jaish-e-Mohammad (JeM) terrorists had entered the state and were "planning to move towards Delhi," the NDTV reported.
Four persons had snatched an SUV at gunpoint near Madhopur in Pathankot district a few days ago. The men, who spoke in Punjabi, had booked the car from the Jammu taxi stand, NDTV quoted police as saying.
While the police are yet to confirm if it was a terrorist attack, they are analysing the CCTV footage and looking for clues to identify the attackers.