Srinagar: Kashmir sapphires are renowned for their brilliance and strong saturation of velvet blue, which is reminiscent of the colour of a peacock's neck.
An exceptional necklace set with 21 top-quality Kashmir sapphires, carrying a total of 109.08 carats, will be offered at Christie's in Hong Kong on 27 November at US $ 12-15 million. The largest sapphire in the suite weighs an astonishing 10.56 carats.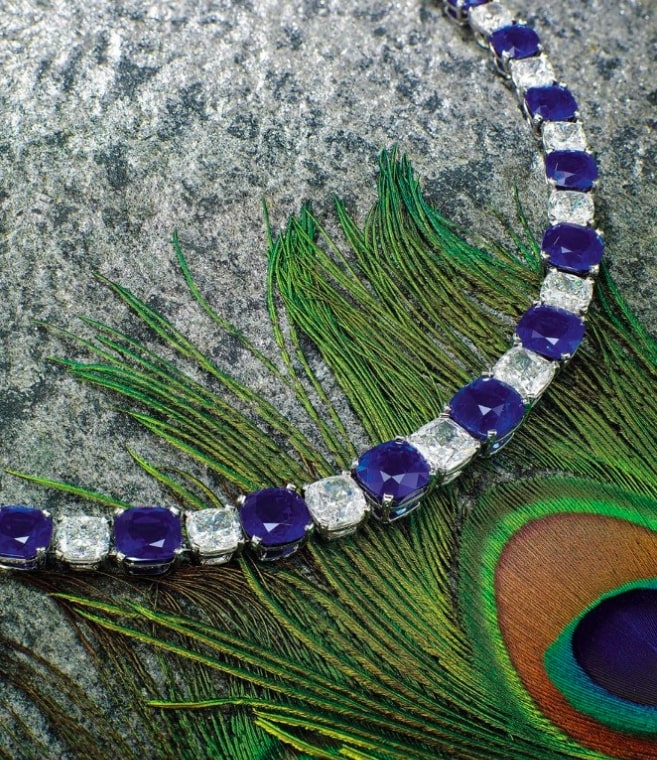 "To find one stone of such quality is very difficult," says Christie's jewellery specialist Vickie Sek. "The 109 carats in this one necklace took more than 100 years to assemble."
The history of 'The Peacock Necklace' begins in 1881, when a landslide in the Zanskar range of the northwestern Himalayas first revealed sapphire-bearing rocks. The majority of the world's most beautiful and highest-valued sapphires were mined from the region, including the present stones. 
By 1887, Kashmir's first sapphire mine had been exhausted and production ceased. As a result, gem-quality Kashmir sapphires are now extremely rare.
This necklace, with its 21 well-matched sapphires, took more than 15 years to complete. The rough stones were meticulously cut and polished over this period, while it took nine months alone to engrave the peacock-feather patterns onto the platinum mounting.
"I still cannot believe there are so many gorgeous sapphires in just one piece," says the specialist. "I would say it's one of the rarest items to have appeared at auction."