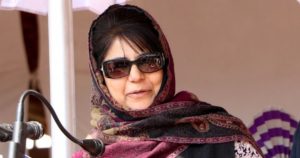 Srinagar: Describing the fruit industry as backbone of Kashmir's economy, former chief minister and Peoples Democratic Party (PDP) president Mehbooba Mufti on Monday said the government is duty bound to save it.
Ms Mehbooba while meeting delegations from Sopore and Khansahib areas stressed for the mitigation of the losses incurred by Kashmir's fruit growers, a PDP spokesperson said.
He said that the PDP chief held detailed deliberations with the people from north Kashmir's Sopore and central Kashmir's Khansahib areas and sought details from them about the aftermath of the recent unseasonal snowfall and the damages incurred by the orchardists at large in Kashmir.
Ms Mehbooba underscored further the vitality of the horticulture in the state while highlighting that same is the mainstay of the economy in Kashmir with 2.3 million people associated with the sector and 237,000 hectares of land in the valley under fruit cultivation.
She added that the change in the weather pattern in Kashmir has been hitting Kashmir's fruit industry over the years and that from the record apple production of over 2.2 million tons in 2014, climate change and unseasonal rains and snowfall has restricted the crop to mere 1.3 million tons as per various estimated.
The PDP President said that the recent snowfall in Kashmir has wrecked havoc on region's fruit growers with damage caused to the crops turning calamitous with each passing day. She further added that the government is duty bound to mitigate the losses incurred by the farmers and fruit growers in the state so that they could save themselves from getting debt-ridden and being caught in the midst of the tumultuous times.
Ms Mehbooba said comprehensive assessment of the losses must be initiated without any further delay by the government and the areas which are far- flung and where damage is massive merits government's immediate attention.