Srinagar: Vice-Chancellor, Central University of Kashmir (CUK) Prof. Mehraj ud Din Mir Thursday felicitated Mehvish Mehraj, owner of the ME'n'U café and former student of the varsity.
Mehvish was felicitated during the two-day Entrepreneurship Summit, organised by the Department of Tourism Studies, Central University of Kashmir (CUK), at the Varsity's Nowgam Campus-I, here.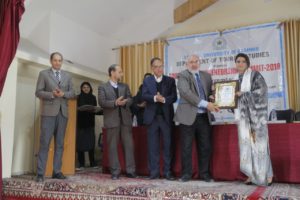 Prof. Mehraj ud Din Mir while speaking at the inaugural function asked the students to think of entrepreneurial ventures instead of only looking for government jobs. He said that students should use their capabilities to become job-givers rather than job-seekers.
Appreciating young entrepreneurs of the Valley, who also include students of the varsity, Prof. Mehraj ud Din said that the young people deserve special appreciation who, after braving all odds, have started their own ventures and carved out a niche for themselves. He said, "They achieved success in their endeavours because of their dedication, which would not have been possible without the determination and sincere commitment." Prof. Mir further said, "Due to our mindset, we usually prefer government jobs instead of setting up of own business ventures, that mind-set needs to be changed."
Mehvish did her bachelor's in Law from the Central University of Kashmir but her dream of being an independent woman and her interest in business pulled her to set up her own venture.