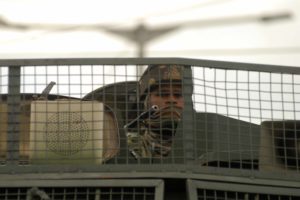 Srinagar: Two militants were killed and a soldier martyred in an encounter in apple township of Sopore in north Kashmir's Baramulla district on Friday.
Mobile internet service has been suspended to prevent spreading of rumours and all educational institutions have also been closed in Sopore.
Defence Ministry spokesperson Colonel Rajesh Kalia told UNI that following specific information about the presence of militants, troops of Rashtriya Rifles (RR), Special Operation Group (SOG) of Jammu and Kashmir police and CRPF launched a joint search operation at Pazalpora Dangiwacha, Sopore, in Baramulla early this morning.
However, when the troops were sealing the area, the militants hiding there, opened fire with automatic weapons, he said, adding that security forces retaliated, ensuing in an encounter.
Two militants were killed in the encounter, he said, adding that a soldier was also injured in the exchange of fire.
'The injured was immediately taken to a hospital, where he succumbed,' he added.
Official sources said that the slain soldier has been identified as Brijesh Kumar. "The operation was still going on when the reports came in," they added.
On Thursday, two militants were killed in an encounter by security forces at Kreeri, Pattan, in Baramulla district.
Four more militants were killed while a soldier was martyred and another injured in two different encounters in south Kashmir on Thursday evening.