Srinagar: Kashmiri woman running "all female schools" and an organization to helping needy has been listed among the most influential 500 personalities in Muslim world. The list was released this week in Qatar.
Founder and Rector of Jamia Islamia Mahdul, Mubeena Ramzan, is the second personality from valley to feature in the list Mirwaiz Umar Farooq.
The list titled 'The Muslim 500, The world's 500 most influential Muslims, 2019' was released this week.
Besides, the list features Ahed Tamimi, the Palestinian teenager who dared to kick and slap an Israeli soldier has been named as The Muslim 500 Woman of the Year while the Muslim Man of the Year is Tun Dr. Mahathir Prime Minister of Malaysia—the second time he has served in this position—and at 93 years old Mahathir is now the world's oldest sitting head of government.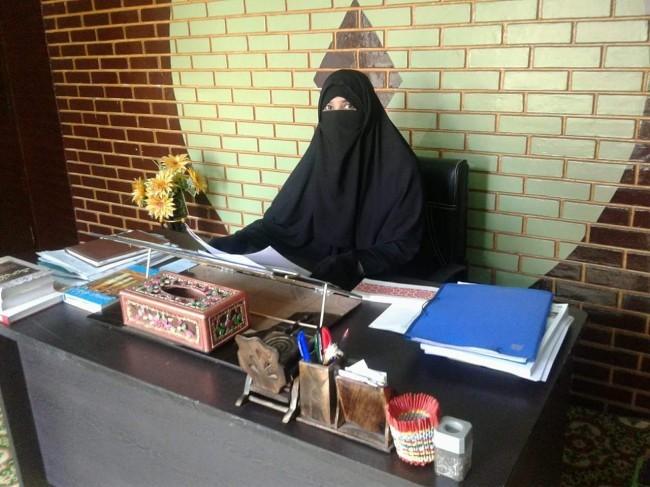 The list is compiled by The Royal Islamic Strategic Studies Centre, an independent research entity affiliated with the Royal Aal al-Bayt Institute for Islamic Thought. The Royal Aal al-Bayt Institute for Islamic Thought is an international Islamic non-governmental, independent institute headquartered in Amman, the capital of the Hashemite Kingdom of Jordan.
"Dr Mubeena Ramzan educates women in Kashmir. She runs the Jamia Islamia Mahdul Muslimat, based in Sopore and in Srinagar and also heads a socio-religious organization, Ansar un Nisa. The former institute graduates Aalimahs, religious scholars, whilst the latter provides a helping hand to the needy, would be brides, widows, orphans, and also establishes vocational training centres," the report reads.
The JIMM is established in Parray Pora area of Srinagar and in northern Kashmirs Sangrama area of Sopore in Baramulla district.
"There is a huge gap between knowing women's rights and understanding them and then turn them practical," Dr Mubeena said.
Dr Mubeena after pursuing bachelors degree from Islamia College Sopore, under the aegis of Anjuman Moin ul Islam, a local public body, she graduated in MA and M Phil from University of Kashmir (KU).
At KU, Mubeena completed her two theses' on Islamic Law and Social Evils and is currently working on Shah-e-Hamdan and Orientalism which is expected to be complete soon.
She has travelled to London, Bangladesh, Sri Lanka and Pakistan for participation in many international conferences and workshops.