Srinagar: After three Kashmiri students were arrested from a college in Jalandhar Punjab last week, Punjab police has started profiling the Kashmiri students creating panic among the students and their parents back home.
A group of students told The Kashmir Press that, after the details were sought by the Punjab police, the accommodation providers also have begun asking Kashmiri students to vacate their premises.
The Punjab police have sought details of all Kashmiri students proceeding or coming back from leave. Students of some institutions have also been asked to inform the area SHO before heading for a leave.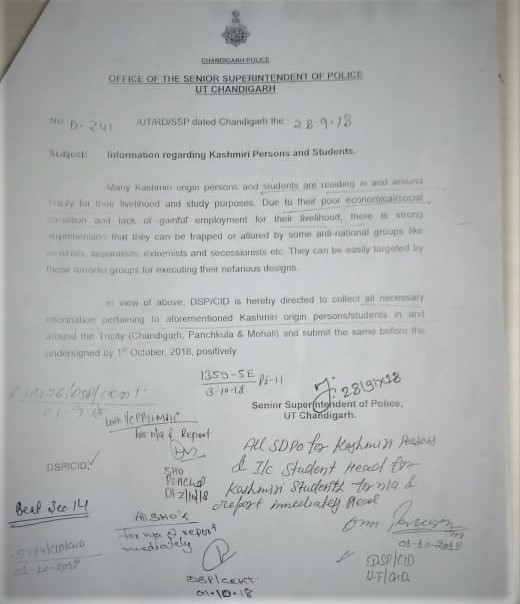 Various departments of Punjab have sought students' data. At the state level, a form issued by the DGP titled "Other students database", a few days after the arrests sought data of students (name, DoB, gender, father's name, address, contact, Aadhaar detail, date of admission, photograph, etc). Another form released by the Sanjh Kendra for student verification is titled "Stranger verification (resident of another district/state)". Separately, in Jalandhar, data has been sought by the CIA, Commissioner of Police and rural police after the arrests.
A report published by Chandigarh based The Tribune newspaper quoting Manhar Arora, MD, St. Soldier Educational Society said, "More than 40 to 50 students of our institute have been asked by their respective PG accommodation owners to leave after the data was sought by the police recently. Many students were also panicked and wanted to leave. But we have started holding counselling of students."
"At least 40 students have proceeded on leave. Students submitted applications, but before we could grant them leave they left. Intimations of all these students are being given to the police," the report quoted Manbir Singh, MD, CT Group of Institutions as saying,
The report quoted Police Commissioner Gurpreet Singh Bhullar said, "We are treading carefully and only students with confirmed terror links are being arrested. So a panic of this kind with PG accommodation owner is uncalled for. Kashmiri students are welcome in the state and there are no orders of any kind on their separate verification."
"After previous arrests of four students, the Jammu and Kashmir police have arrested another student, Danish Rehman Sufi, from Noorpura in Pulwama on Wednesday. The student brought to Jalandhar on Thursday has been remanded in five-day police custody," the report said.
"A student of Universal College at Lalru in Dera Bassi, Danish is also a native of Pulwama like student Sohail Ahmed Bhatt, who was arrested on October 11. With this, the total number of Kashmiri students arrested under the case has reached five."