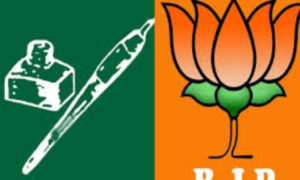 Srinagar: Situation turned tense in circuit house Srinagar after Bhartiya Janta Party (BJP) leader, Ashok Bhat, abused Personal security officers (PSO's) of colleagues and accused them of being Jehadis and militants.
Bhat is contesting municipal polls and is currently camping at circuit house Srinagar.
According to the witnesses, the PSO of BJP leader, Darkshan Andrabi entered circuit house to drink water.
"In the mean time, Ashok Bhat also entered," witnesses told The Kashmir Press. "Bhat asked him how he dared enter the circuit house to drink water. He abused him and hurled invective at his mother and sister".
This infuriated the PSO, who shot back as to why he can't drink water inside the circuit house.
The situation turned tense when other PSO's of protected persons joined in and asked him that how he can be so rude towards Bhat.
"The situation turned so ugly that there was fist fight," witnesses said. "At that very time, Bhat called the PSO's as militants and Jehadis".
The situation was doused by the officials and other political leaders presently staying at the circuit house.
A BJP female leader confirmed the incident and said that Bhat was too harsh on the PSO.
"Without them we are not VIP's" she said. "Bhat should not have acted against our protectors".
BJP spokesmen Altaf Thakur said the incident happened after a PSO entered a meeting hall along with a weapon.
"Ashok Bhat objected and told him why he came in along with the weapon," Thakur said.
"In reply the PSO said I will fill your belly with bullets. Thereafter the whole incident unfurled".