Srinagar: Aligarh Muslim University scholar turned militant Mannan Wani was on Thursday killed in a gunfight will government forces in Shatgund village of Handwara in northern Kashmir's Kupwara. Another militant has also been slain in the gunfight.
Sources confirmed the killing of Mannan, however the identity of another militant was not ascertained.
Who was Mannan Wani?
Mannan Bashir Wani, an AMU research scholar from northern Kashmir' Kupwara district is slain.
Mannan is son of Bashir Ahmad Wani. He was pursuing his PhD in applied geology at Aligarh Muslim University (AMU).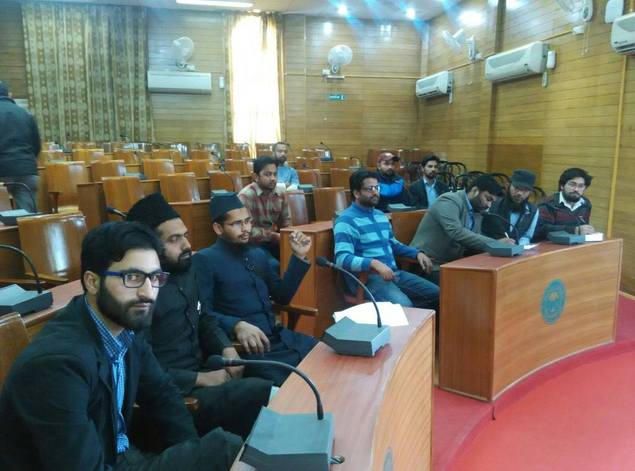 Last year in January, a photograph of Mannan appeared on social media in which he was seen holding an under barrel grenade launcher and with a message declaring that he has joined the militancy. The photograph that appeared on Facebook and Whatsapp said Mannan joined the Hizbul Mujahideen on January 5, 2017.
Mannan's family sources said that they had seen the picture on social networking sites, but had no idea (whether he has joined militants or not). "We lost contact with him on January 4 as his phone was switched off. We thought he had switched it off for some reason or lost it. As we couldn't contact him, we lodged a missing report with police," his brother Mubashir had told The Indian Express.
The official website of Aligarh Muslim University said that the 26-year-old Mannan was pursuing a PhD on 'Structural and Geo-Morphological Study of Lolab Valley, Kashmir'. Mannan had also received an award for the best paper presented at an international conference on 'Water, Environment, Ecology and Society' in 2016, according to the AMU website.
"Mannan Bashir Wani, Research Scholar at Department of Geology, Aligarh Muslim University has been awarded the 'Best Paper Presentation Award' in an International Conference on 'Water, Environment, Energy and Society' (ICWEES) held at AISECT University, Bhopal.The award was conferred to Mr Wani for his paper 'Flood Risk Assessment of Lolab Valley from Watershed Analysis Using Remote Sensing and GIS Techniques'," said AMU Website.
"Around 400 delegates from 20 different countries including the USA, Austria, Australia, South Africa, Egypt, Canada, Iran, Italy, UK, Bangladesh, China, South Korea, Singapore, Kuwait, Tunisia, Malaysia, West Indies, Brazil and Yemen had participated in the Conference to present their research papers," it adds.
Mannan had enrolled in AMU after successfully completing Bachelors in Geology and Earth Sciences from the University of Kashmir. He had also completed his Master's and MPhil in Geology from AMU.
Mannan was active during student union elections at AMU in 2016 and he had written articles on student politics on an online portal – thecompanion.com. Mannan's profile on the site describes him as an AMU research scholar who is a "student activist having interest in geopolitics and Islamic revivalist movements".