Srinagar: Hurriyat patriarch Syed Ali Geelani on Tuesday addressed a gathering of mourners of the slain militants Asif Ahmad Malik and Irfan Rashid Dar, through a phone call in Pulwama and Dooru in Islamabad. Both were recently killed during an encounter with government forces.
A spokesperson of Geelani's Hurriyat Conference (G) said that the octogenarian leader while addressing the mourners said that since 1947, Jammu and Kashmir has rendered "unparalleled sacrifices, thousands were caged and tortured, properties worth billions razed to the ground and looted, and sexual assault and rape used as a war weapon, but the government has not been able to suppress our emotions".
Paying rich tributes to the slain militants, Geelani said, "our youth lay their lives to end the "age-old slavery of their nation" and for the right to self-determination; reiterated his pledge to take the ongoing movement to its logical end. "We will never allow anybody to barter with the precious blood of 'martyrs'. We need to be aware of this and we are duty bound to safeguard their sacrifices and should desist from such activities which prove harmful for our movement."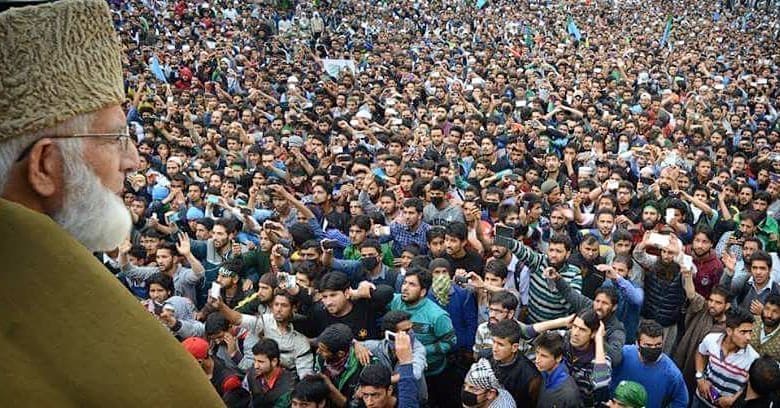 Hurriyat chairman, the statement read, said that since the past 71 years, list of crimes committed by the "Indian forces" is very long and it lengthened with each passing day. "Killings, rapes, molestations, ransacking of buildings, arrests, humiliations and harassments are common and much-used tools by so-called world's largest democracy. The oppressor has tried its best to muzzle our voice—but has utterly failed to do so, and no power on earth particularly the Indian might, its brutality and their local stooges can never deter us from our much-cherished goal of right to self-determination."
Stressing upon people in general and youth in particular, Geelani according to the statement said that the people of Jammu and Kashmir need to strengthen faith, avoid miss deeds and nourish the Islamic culture in homes and society. He asked the youth to remain cautious about the sinister designs of "anti-movement" elements.
The pro-freedom leader urged people to boycott upcoming elections and asked them to exhibit steadfastness and keep away from elections as participation in elections tantamount to "treason with the blood of martyrs".
"Indian authorities are misleading world community by portraying people's participation in elections as a verdict in their favour," he said. "It is prerequisite to convey a strong message to the world community that we are not power hungry and despite all odds strive for our basic and fundamental rights."