Srinagar: The Pakistan Post has issued 20 "commemorative" postage stamps portraying slain Kashmiri militants and some others as "victims of atrocities by Indian troops in Kashmir".
A senior official of Pakistan Post told Times of India that the stamps — many with disturbing images — were issued from its headquarters in Karachi on July 24 to express Pakistan's solidarity with Kashmiris in their "fight against the Indian oppression" and to locally and internationally highlight the plight of people living under "India occupation".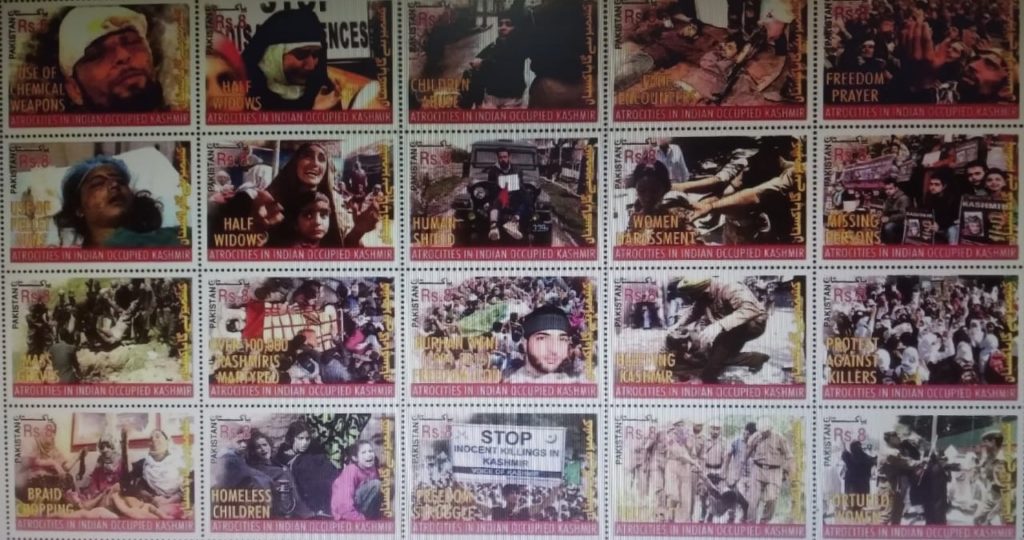 Along with the images, the stamps carry captions such as 'use of chemical weapons', 'use of pellet guns', 'mass graves', 'braid chopping' and 'Burhan Wani (1994-2016) freedom icon', the report said. Wani was killed in an encounter along with two of his associates by government forces in Bamdoora village of Anantnag district on July 8, 2016.
The series of 20 postal stamps titled 'Atrocities in Indian-occupied Kashmir', which are on sale on e-Bay and a few other online trading sites, were issued on 'Kashmir Martyrs Day' by the Philately Bureau, Karachi. The pictures are that of militants killed in encounters in the past few years and several other pictures taken during the turbulent months of attacks and encounter killings that rocked the Valley. The stamps are available on e-bay for 6.99 dollars (approximately Rs 500). In Pakistan, the stamps are sold at Rs8 (local currency) per piece.
Subjects of the stamps include 'over 100,000 Kashmiris martyred', 'homeless children', 'children abuse', 'freedom struggle', 'fake encounters', 'women harassment' and 'bleeding Kashmir'.