Clad in an Army uniform, holding an AK-47, a 3.5 feet Ganesh idol greets devotees at the pandal set up in Om flats in Vadodara's Gorwa area. It is set in the backdrop of the incident last year in which a civilian was tied to an Indian Army jeep as a 'human shield' against protesters hurling stones.
As reported by the Indian Express, the poster in the background of the Ganesh has a cut-out of the jeep with the civilian tied to it, and pictures of Army personnel and a fighter plane.
Meant as a tribute to the Indian Army, the pandal highlights the ongoing conflict between the Indian armed forces and the people in the Kashmir valley. A signage placed in front of Ganesha reads "Indian Army" and one placed in front of the jeep says, "Kashmiri stone pelter", the Indian Express reported.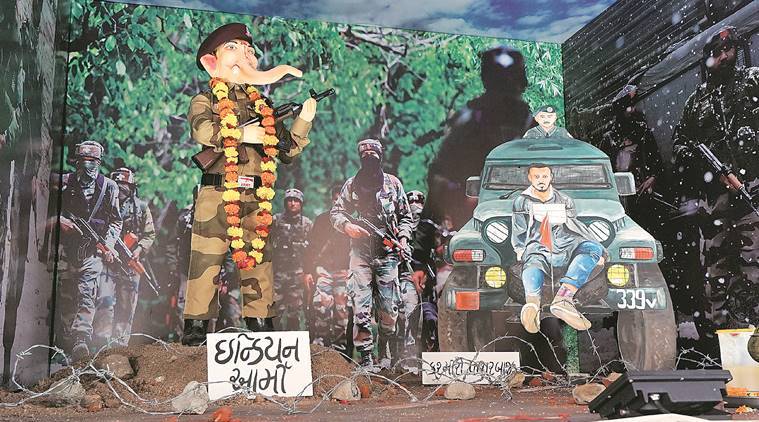 A hoarding adjacent to the pandal reads, "For the last few years, Kashmir has been conflict-ridden and every now and then, citizens of Kashmir pelt the armed forces with stone and many political parties in India call them 'adrift' and protect them. So, we the members of Om flat are against all such politicians and political parties. They even protect those political students who raise slogans like 'Bharat tere tukde honge' in JNU. We strongly condemn such politicians. India was, is and will remain one. Kashmir is an integral part of India."
According to the organising committee, their idea behind the concept was to show solidarity with the Indian Army fighting at the borders.
One of the organisers Sanjay Jadhav, 46, who owns a security agency in the city, and the brain-child behind the pandal design says, "My brother-in-law had served in the Indian Army as a Major and had fought the Indo-Pak and Indo-China wars. Every time he was home, he had many anecdotes to share. I have seen the life of our jawans through his stories and that has made me proud of the Indian Army."
Another member of the organising committee, Dilip Nepali, 46, who runs an English-medium school in Savli, seconds Jadhav. Three of his family members are currently serving in the Indian Army while three others have retired from the services. "We stand in solidarity with Major (Leetul) Gogoi and his move to tie up the stone-pelter. We have learned about him facing a court-martial but we do not condemn his move and instead we hail it and that is why we took up the concept," Nepali said.
An 18-year-old BTech student, Meet Vaidya, is one of the two students who decorated the entire pandal. "I love and respect the Indian Army," he added.
On April 9 last year, a team led by Major Leetul Gogoi tied a civilian to the bonnet of an Army jeep to escape heavy stone pelting in central Kashmir's Budgam district, the image going on to make global headlines and spotlighting once again the civilian-security polarisation in the Valley. (Courtesy: The Indian Express)