Srinagar: Foreign Minister of Turkey Mevlut Cavusoglu has said that Turkey wishes that the Kashmir issue involving India and Pakistan gets resolved according to the UN resolutions in a peaceful manner.
He said that Turkey will stand with Pakistan at the group that has been formed over Kashmir in the UN and would try to make it successful, Dawn News reported on Friday.
Cavusoglu was addressing a joint press conference with Foreign Minister of Pakistan Shah Mehmood Qureshi in Islamabad.
The two earlier held one-on-one meeting and said the two sides will focus on enhancing economic relations.
"Our relationship has been very strong. There is a mutual interest. We understand each other's sensitivities. Turkey has played a role in improving regional consensus and stability.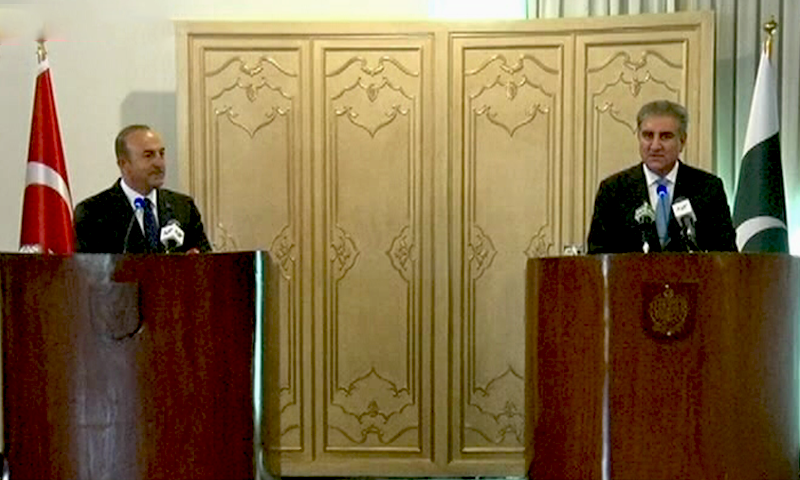 "They also have a trilateral arrangement, which we can be use to further improve our regional stability and improve regional connectivity," Qureshi said.
"At the United Nations conference there will be a separate conference on Kashmir on the side. It happens every year but it is different this time because a new UN report has come out which sheds light on the Jammu and Kashmir.
"There has certainly been a surge in the interest of people in the human rights abuses that are taking place there. I invited FM Cavusoglu to that conference, and I am thankful to him that he accepted the invitation.
"I got the chance today to thank the Turkish FM for supporting Pakistan's membership in Nuclear Suppliers Group (NSG). On the Netherlands caricature issue as well, Turkey supported us."
Qureshi further said that the situation of Afghanistan, Iran and Kashmir were also discussed during the meeting.
Turkish FM Cavusoglu congratulated Qureshi and Prime Minister Imran Khan on forming the new government in Pakistan.
"Governments and people come and go, but real friendships cannot end," Cavusoglu said. "This friendship should remain forever.
"In today's meeting I discussed a lot of issues with FM Qureshi. The most important aspect of our discussion was on the strategic council, the sixth conference of which — God willing — will take place in Pakistan, and we will do all we can to make it happen.
"We have strengthened our commercial ties, and [decided to facilitate] our companies that want to work in Pakistan."
"We have a unique relation, therefore, we should work together to further enhance our relations. The security issue for both the countries is important and so is the economic and military cooperation."
FM Cavusoglu said that "there is a propaganda against Islam in Europe. We ran a campaign against the Netherlands caricatures, and thank God they shut it down."
The Turkish minister said that Pakistan and Turkey have suffered the most hardships in the war against terrorism.
Cavusoglu said that "Turkey will never forget Pakistan and its people's help" in the failed 2016 Turkish coup d'état attempt.
"The Gulen movement not only damaged Turkey but it caused destruction wherever it went," he said. "Pakistan helped us in that and we would for it to keep doing so."