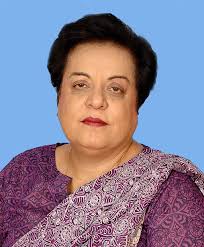 Srinagar: The Imran Khan led government in Pakistan is forming a new conflict resolution model to address the Kashmir dispute.
In an interview with Wajahat Khan for his show, "Mahaaz," in Duniya news, senior Pakistan Tehreek-e-Insaaf leader and Human Rights minister, Shireen Mazari said that the draft of the conflict resolution model was expected to be made public by next week.
"The Conflict resolution model is ready. It is almost done and we are going to present it by next week," Mazari said when asked how the PTI led government looks forward to resolve Kashmir issue.
When told whether this model will involve the back channel negotiations, she categorically replied, "no".
"It is a concrete step-by-step proposal which will involve involve steps to be taken to resolve the Kashmir dispute," Mazari said.
"It is not a Musharraf plan, but a PTI plan".
Asked if the Pakistan army was also on board to draft this conflict resolution, she laughed and said it will be a "concrete, final proposal".
Earlier, the Pakistan Prime Minister Imran Khan has said that his government wants dialogue with India and wants to resolve all issues including Kashmir besides starting trade between two countries so to alleviate poverty in South Asia.
He has also said that if India takes one step towards dialogue, Pakistan will take two.
Mazari also said comprehensive dialogue should be renewed for which dialogue mechanism already existed.