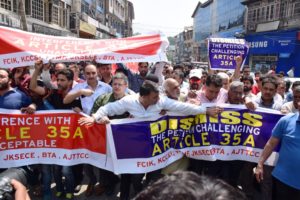 Srinagar: After separatists, traders, transporters and lawyers, political parties such as the People's Democratic Party (PDP), National Conference (NC) and Democratic Youth Front (DYF) staged rallies on Saturday in support of Article 35-A of the Constitution.

The Joint Resistance Leadership (JRL), comprising Syed Ali Shah Geelani, Mirwaiz Moulvi Omar Farooq and Mohammad Yaseen Malik, have called for a two-day strike from Sunday against any move to dilute Article 35-A.

The Supreme Court will hear a writ petition demanding scrapping of Article 35-A on Monday.

The NC took out a rally in Srinagar against attempts to scrap Article 35-A. A number of former ministers, led by party General Secretary Ali Mohammad Sagar, and senior party leaders and workers participated in the rally. They demanded quashing of the petition filed in the SC against the Article 35-A which defines the permanent residents of the state.

The PDP also staged a protest, seeking full safeguards against alleged moves to undermine the state's constitutional position and political autonomy.

Referring to cases against Article 35-A pending in the apex court, PDP protestors demanded dismissal of all cases pending adjudications.

The rally was organised by Srinagar's District Unit of PDP in which hundreds of workers vowed to offer any sacrifice that may necessary to protect the state's special position.

The rally was led by Mohammad Khurshid Alam, PDP District President for Srinagar and MLC, said Mehbooba Mufti's firm stand as chief minister on the Article is well known and in consonance with honour and dignity of the people.

The JKDYF also held a protest demonstration in Srinagar led by its President Wahid Sultan and General Secretary Abdul Rashid Itoo. Hundreds of JKDYF activists carrying banners and placards, shouted slogans in favour of Article 35-A at Press Colony near here on Saturday.

Wahid Sultan said that people across the state feel deeply concerned over the issue as J&K acceded to India under the guarantees provided by the Constitution of India. Any attempt to repeal or fiddle with Article 35-A would have serious ramifications in the state.
"The organisation is of the opinion that Article 35-A, shall in no circumstance be annulled, modified or repealed. There is a general consensus across the state with regard to Article 35-A and people of the state are united and can go to any extent to defend the special provision. There should be no fiddling with this Article, which safeguard the state's special protection", he said.

Article 35A is a provision incorporated in the Constitution giving the Jammu and Kashmir Legislature a carte blanche to decide who all are 'permanent residents' of the State and confer on them special rights and privileges in public sector jobs, acquisition of property in the State, scholarships and other public aid and welfare.