Srinagar: Jamat e Islami J&K Thursday distances itself from controversial statement made by its spokesman about Pakistan general elections that 'people in Pak have rejected Islam' by saying that they are his personal views.
JEI issued a statement through its social media accounts that their spokesman Zahid Ali's views are his personal and do not represent party.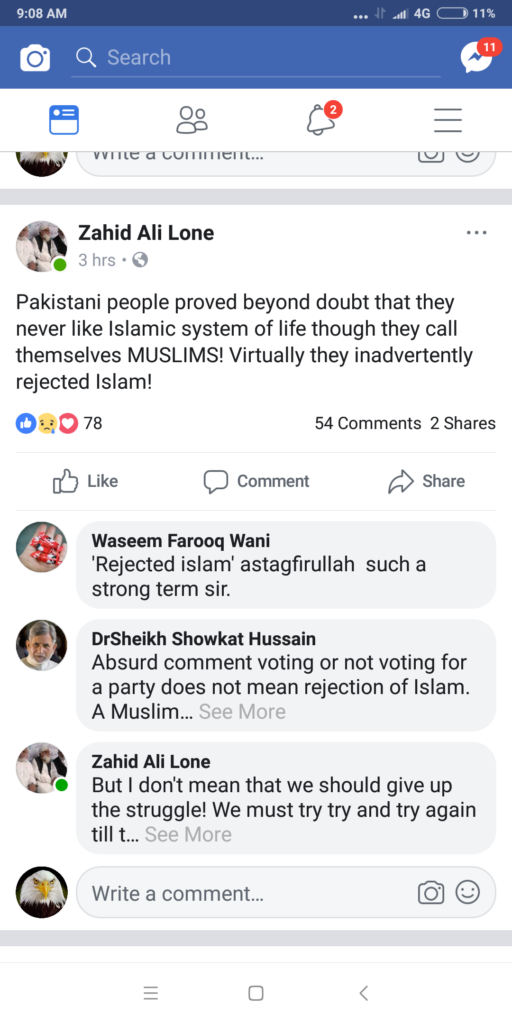 "The views expressed by Spokesperson of JeI Advocate Zahid Ali regarding Pakistan elections in his personal facebook account are purely of his own and has no link with the official stand of Jama'at-e-Islami Jammu and Kashmir," JeI said.
They also said that Jama'at  'rebuts' section of media who are  'unnecessarily considering personal remarks as party stand'.
Lone had later removed the Facebook status from his social media account after it generated heated debate online.
"Pakistani people proved beyond doubt that they never like Islamic system of life though they call themselves MUSLIMS! Virtually they inadvertently rejected Islam," he had written earlier..
However Zahid was soon grilled on his views about the Pakistan elections which has come under attack from various militants groups including Daesh or IS. Almost 250 people have died in different attacks on rallys and on polling day more than 30 people died in a suicide bomber attack.
An international law expert Dr Showkat Hussain , who teaches at Central University Kashmir countered Zahid and reminded him that his counterparts in Pakistan have been part of different coalitions including In Khyber Pakhtunkhwa where Imran Khan's Party PTI is in power.
"Absurd comment voting or not voting for a party does not mean rejection of Islam. A Muslim has submitted no choice of accepting or rejecting. By becoming part of this western democratic process Islamic groups subject them to this process. By aligning with almost every party in different elections including notorious Fazlu Reman they have discredited them selves. They were part of PTI government in KPK for last five years," Showkat said.