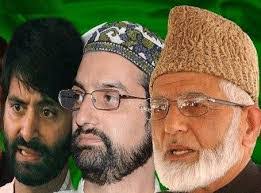 Srinagar: Joint Resistance Leadership (JRL) on Thursday have termed the custodial death of 66-year-old Ghulam Hassan Malik alias Noor Khan, a resident of Peelipora, Uri in north Kashmir's Baramulla district as 'a biggest human tragedy'.
JRL comprising of Syed Ali Geelani, Mirwaiz Umar Farooq and Muhammad Yasin Malik said that Malik was languishing in Kotbalwal, Jail Jammu and "died recently due to serious complicacies for the want of proper medical treatment," the JRL.
The JRL said that death of Malik during imprisonment has proved the apprehensions of resistance leadership right that Kashmiri prisoners were "ill treated" in jails.
"The jailers are and not even provided with the basic medical aid which poses a great threat to lives as proven in the case of Malik," it said.
Paying tributes to the courage and patience shown by Malik during incarceration, the JRL said that Kashmiri nation will always remember the contributions made by Malik towards the freedom movement throughout his life.
The leadership said that the elderly person was slapped with "draconian" PSA and arrested from his home and later lodged in "notorious" Kotbalwal Jail where he was denied the medical aid with the result his health deteriorated which later 'resulted in his death during incarceration'.
They said that like Malik, dozens of Kashmiri prisoners are being denied the basic medical health facilities as guaranteed by the jail manuals which put their life at a great risk.
JRL said that the relatives of most of the Kashmiri resistance leaders who met them in Tihar narrated a painful tale that includes non-availability of medicines, and things required by a person on a daily basis.
The trio appealed the heads of all rights forums across the globe that include Amnesty International, Asia Watch, and CRC urging them to conduct a thorough visit of various Indian and other jails of Jammu and Kashmir that include Kathua, Jammu, Udhampur, Kotbalwal, and also the Central Jail Srinagar to take the stock of the ill treatment meted out to the prisoners.
They urged international organisations to build pressure on Delhi to provide the medicines and basic medical aid to the prisoners who are in need of it to prevent further deaths.
The leadership strongly condemned and expressed their resentment over the manhandling of dozens of villagers and vandalizing the property worth lakhs in Mochuwara village of South Kashmir's Shopian district during the nocturnal raid and termed it as 'the ultimate highhandedness and highly undemocratic act' that deserves all forms of condemnations.
The leadership termed the forces act of vandalizing properties and beating people to the pulp as 'the worst form of state terrorism'.
They said forces are launching search operations on their choice and thrashing people at their will has become a routine affair in Kashmir now which stands an eye-opener for the world community.