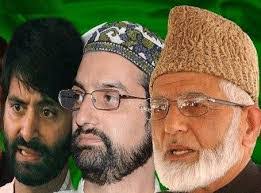 Srinagar: Strongly denouncing the killing of 15-year old student Faizan Ahmed of Ladhoo area of Pampore, Joint Resistance Leadership (JRL) has said that since the imposition of Governors rule in the state, an all-out war has been declared against the people.
Faizan  was killed after he was hit by ammunition fired by the goverenment forces at an encounter site.
Due to the ammo, his skull was ripped apart and he died on the spot.
A 10th class student, Faizan was taken to district hospital Pulwama where he succumbed.
His father Dr Abdul Gani Poswal, who was performing his professional duties at District Hospital Pulwama, declared him dead and broke down.
The JRL, comrpising of  Syed Ali Geelani Mirwaiz Umar Farooq and Muhammad Yasin Malik, said minor boys were are being brutally killed which reflects the government's policy of ultimate repression aimed at forcing people of Kashmir and the resistance leadership into a submission.
The JRL also stated that the recent report of United Nations Human Rights council has already taken a "kid off the gory chapter of human rights violations committed by the lakhs of forces in Kashmir" and the report stands as an eye-opener for the rest of the world as how the rights of peace loving people of Kashmir are trampled under boots of police, military and paramilitary personnel".
The JRL also staged a protest march against the brutal killing of little Faizan At Nowhatta.