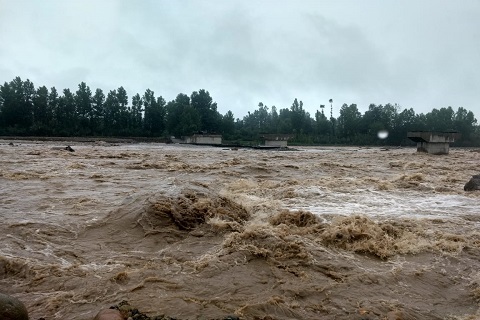 Srinagar: The authorities have declared  flood alert in parts of South Kashmir after the water level crossed the danger mark of 21 ft at Sangam in Anantnag district on Friday evening.
Mir Muhammad Shathnawaz, chief engineer Irrigation and Flood control, said flood has been declared in south Kashmir.
He said the water level in Jhelum at Sangam has crossed the danger mark of 21 ft.
"At 6 pm, the water level in Jhelum was 21. 33 ft," Shahnawaz said.
The continuous rain from past one day has led to surging of rivers and streams with rain waters with every likelihood that they will cross the floods of mid-level danger mark.
The authorities said they were put on alert to deal with any flood like situation, but added the rains will diminish within the next 24 hours.
An official of I&FC said they have taken all the necessary measures to address flood like situation in Kashmir.
"We are constantly monitoring gauge readings to record the water levels," official said.
"The otherwise dry rivers this year have surged with rain waters. But so far the situation is under control".
In another statement issued to the press, the department said in view of precipitation and rise in water levels, the habitations living alongside tributaries of South Kashmir especially Vishow Nallah are advised to remain vigilant since the water level reached to 7.67m.
Incessant rains have been lashing Kashmir valley since Thursday resulting in increased water levels at different places.
The rising water levels have also created panic among the masses, especially those who live along the banks of river Jhelum.
It also forced the suspension of pilgrimage to Amarnath cave due to slippery road conditions following heavy rain during the night.
The pilgrimage was suspended from both shortest Baltal and traditional Pahalgam tracks following heavy rain due to which the roads have become very slippery, reports said.
The rain water has logged in the streets and roads of Srinagar creating hassles for the pedestrians.
The consistent rains also forced people to take out warm clothes due to dip in temperature while as people mostly preferred to remain indoors.
Authorities in Srinagar have established control rooms and publicized emergency numbers in case need arises.
Director Meteorology department, Sonam Lotus said that Kashmir has been witnessing rains the night of June 27th.
"As informed earlier, many places of South, East Kashmir and Hilly Areas of Jammu region received heavy rain as a result of which there is significant increase in water levels in nallahs, rivers etc. thereby increasing chances of potential flood, landslide on vulnerable areas. Current situations looks like this," he stated.
Friends, IMD has declared the arrival of Monsoon Rain in J&K yesterday on 27th June which is 3 days ahead of normal date. As per my observations, Monsoon generally Hit J&K during ending June to 1st week of July every year. As we already had a deficit winter snow, people were desperate for a good spell of Rain. Inder Devta didn't disappoint us, blessed with incessant rain since yesterday in all regions, Jmu, Kmr & Ladakh…
The MeT department has earlier stated that weather will improve from Saturday adding heavy rains were expected on July 1 and 2 again.
"Moderate to heavy rain is expected again from July 01 to July 02 due to western and eastern disturbances which have pre-poned moonsoon in J&K," Lotus said.
"We will continue to monitor the situation and let people know about the intensity of rain on July 01 and July 02 at the appropriate time." he added.