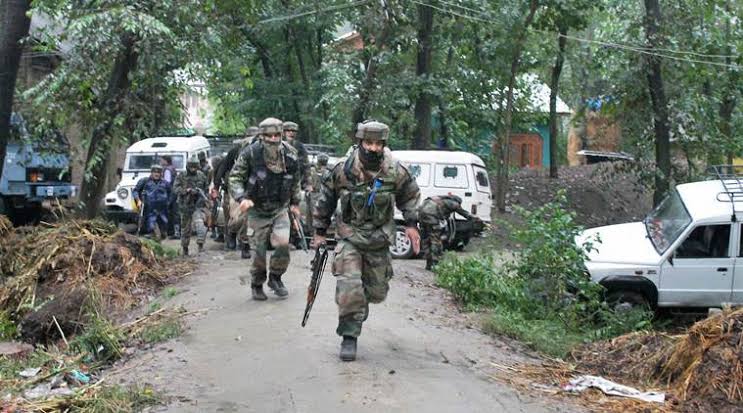 Srinagar: Two militants, including a divisional commander of Lashkar-e-Toiba (LeT) were killed in a gun battle with government forces while as a civilian was shot to death by the troopers in the ensuing clashes at the encounter site in Chidder village of Qaimoh located in south Kashmir's Kulgam district.
The police claimed that the third militant was caught alive after he surrendered before the forces along with his arms and ammunitions.
Following the specific input about the presence of militants, army's 1 RR, special operation group of police and the CRPF launched a cordon in chidder village.
As the forces were laying the cordon, the militants, three in number, present in the village came out of their hide-out and proceeded towards breaking the cordon.
"They were just behind the house of the local militant Shakoor Wani when they intercepted the army and SOG men," a villager told The Kashmir Press.
"They (militants) opened a hail of fire to break the cordon. But they failed to do so. They were killed just close to Shakoors house in the paddy fields".
Another militant, Shakoor Wani, tried to flee, but he got trapped in the heavy fire.
"There was heavy firing. We have not witnessed such intense firing in recent years," the villager said.
"Shakoor could not escape; neither had he weapons to fight except a pistol".
The police said that Shakoor Wani laid down his weapon and surrendered before the forces. He had reportedly joined the Lashkar militant outfit two months ago.
The two slain militants were identified as Lashkar's divisional commander, Shakoor Ahmad Dar, an A++ category militant. He was a resident of Tengpora, Kulgam.
Dar also featured in the list of the most wanted 20 militants in Kashmir released by the government forces.
According to the Director General of Police S.P Vaid one of the militants could not be identified as he seemed to be a foreign national.
As the exchange of firing was going on, massive clashes broke out between the government forces and protesters near the site of the gunfight.
The witnesses said that youth took to the streets and clashed with the forces deployed in the area to save the militants.
The forces responded by firing live ammunition, tear gas and pellets, resulting in injuries to over a dozen people
A youth identified as Yawar Ahmad was killed when he received a bullet in his chest fired by the forces.
He was shifted to a hospital where doctors declared him dead on arrival.
They said that Ahmad was a resident of Gassipora village.
Apart from Ahmad, around 20 persons sustained injuries in clashes near the site of a gunfight with government forces.
Meanwhile internet services were suspended in Kulgam and Anantnag district of south Kashmir following the encounter.