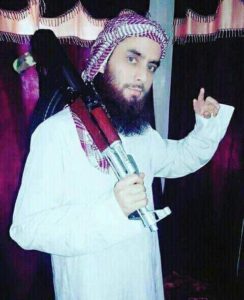 Srinagar: Dawood Sofi, alias Burhan, was a 26 year old middle class boy who left his studies mid-way to work as a businessman, but ended becoming the chief of Islamic State (IS) of Jammu and Kashmir.
Hailing from Mustafabad area of Srinagar, Dawood was raised in comfort by his parents and two elder brothers.
"He was a school dropout," one of his neighbours's told The Kashmir Press.
"Dawood left studies at an early stage when he was just a 7th class student".
Soon after leaving the school, the relatives and neighbours said that Dawood went to Islamic Darool-Uloom Poonch to study Islam.
"But he could not continue due to unknown reasons," they said.
Later, his elder brothers helped him set a business unit in a close vicinity to his home.
"Dawood was running a travel agency for few years," Dawood's relative said.
"Things changed though after Hizb Commander Burhan Wani was killed by the government forces in July 2016."
As protests spread across the whole valley after Burhan's killing, the relatives and neighbours said Dawood would take part in pro-freedom protests and would lead them.
On a scorching summer day of August 2016, they said Dawood left home and never returned.
According to multiple sources, Dawood first joined the dormant Tehreek-ul-Mujahideen and played a role in reviving the outfit.
Later, he along with his friend and accomplice Mugees Ahmed Mir joined the Islamic State of Jammu and Kashmir.
After Mir died during an encounter with forces in Srinagar last year, Dawood Salfi rose up to become the chief of IS in Kashmir
Dawood's first audio surfaced on social media on April 2017.
In that audio he was seen addressing a gathering at the graveyard at Pulwama district in South Kashmir.
According to the media reports, in that very video, he was heard asking people not to wave the Pakistani flags during the funeral of militants which he termed as "un-Islamic".
According to the police, Dawood and his small IS group was involved in multiple attacks on government forces.
They said there were only four IS militants remaining in Kashmir who were killed on Friday.
Dawood's father-Mohammad Subhan Sofi usually stays at home because of the old age.
Besides Dawood, he has two sons who are managing home affairs.
Meanwhile, thousands of people hit the roads near Zainakote Srinagar protested the killing of Dawood.
Reports said that thousands of people from Mustafa Abad, Umar Abad, HMT and adjoining areas assembled near Zainakoot and blocked Srinagar-Muzaffarabad road.
People used public address system while patriotic numbers were played on loudspeakers in the area.
All the vehicles came to a grinding halt, while according to eyewitnesses high pitched pro-freedom slogans were with people waiting for the body of slain militant.
Reports said that agitated youth pelted stones on government forces who responded with tear-smoke shelling.
The clashes continued for hours together. A fleet of vehicles got stranded on Srinagar-Muzaffarabad road.
The road remained closed almost for whole day while a sea of people waited for the body of Dawood.