Srinagar: Putting all the speculations to rest, the Peoples Democratic Party (PDP) has said that no legislator plans to defect the party.
"We have talked to all the legislators, no one is going to leave the party and join the congress," a senior PDP leader told The Kashmir Press.
"All such reports making rounds are baseless and figment of imagination".
Vice President, state Congress, GN Monga also denied that any PDP legislator was joining the party.
"There is no such thing happening. This is not true. If somebody wants to join us we will think about it. But nobody has approached us yet," he said
The fake news circulated was so powerful, that the PDP legislator and former cabinet minister, Abdul Haq Khan, who was the first to figure among the list of leaders defecting PDP on online media, took to social media and cleared the air surrounding the mystery.
"The news circulated by a section of press and social media outlets regarding my joining a political party is totally baseless and concocted," he tweeted.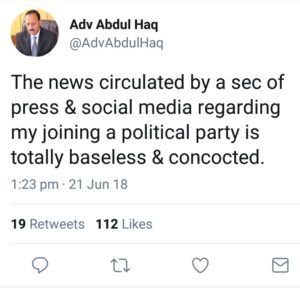 Earlier it was reported by a local news gathering agency that Khan had a detailed meeting with former Jammu Kashmir Chief Minister and Congress stalwart Ghulam Nabi Azad.
It was reported that the meeting was facilitated by Congress Legislator from Sopore Haji Abdul Rashid.
It was said that Haq Khan had expressed his desire to join Congress party before Ghulam Nabi Azad.
Rumours and speculations were circulated particularly on social media after Khan had not attended the emergency meeting called by party president Mehbooba Mufti.
Mehbooba had called the meeting at her official Gupkar based residence shortly after BJP pulled out from the ruling alliance with PDP on Tuesday.
Not only Haq, a news circulated on social media including Whats' app groups declared that five PDP legislators including Aijaz Wachi, who is regarded as close confidante of PDP President Mehbooba Mufti, was  set to 'join' Congress party.
The other PDP leaders who were reported to have left the party included Chadhary Qamar Hussain and Shah Mohammad Tantray.