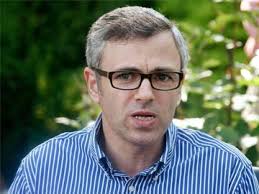 Srinagar: National Conference Vice president Omar Abdullah has ruled out any support for the Peoples Democratic Party (PDP) after Bhartiya Janta Party (BJP) pulled out of the ruling alliance.
Addressing a presser in Srinagar after meeting Governor NN Vohra, Omar said that NC was not approached by anyone, nor would it offer support to any party to form the government.
"I met governor. I told him that National conference didn't receive any mandate to form government in 2014 and similarly we don't have mandate in 2018 also," he said.
"We haven't been approached by anyone for support neither have we approached to any party to form government".
In response to a question that NC offered support to PDP to form a government in 2014, NC vice President said the offer of an alliance was a one time.
"They don't need my support. Why should I offer my support to anyone," Omar said.
He said the hung assembly has paved way for the Governors rule in Kashmir.
"I on behalf of my party  assured Governor to full support and told him that there is no option left other than to implement governor rule do bring situation to normalcy in valley," Omar said, adding, that elections must be held as soon as possible.
He said that the party had pretty good idea that the coalition will break-up.
"But the timing has taken us by surprise. We knew the coalition will break, this year. But, not so soon," Omar said.
He said the situation in past one month had deteriorated and the increase in violence was witnessed.
"We are not celebrating this breakup. We are mourning the demise of democracy in the state," NC vice president said.
Asked if the PDP was solely responsible for the worsening Kashmir situation, Omar said PDP alone should not be blamed.
"The BJP too is responsible for the situation. PDP alone was not ruling Kashmir. Both these parties have together pushed the state to the precipice," Omar said.
He further said that I wish former Cheif Minister Mehbooba Mufti should have left with some dignity rather than being thrown out.
The BJP pulled out of the ruling coalition with PDP after it stated that "taking into account, sovereignty and integrity of our country, we have decided to part ways".
"It has become untenable for BJP to continue in the alliance govt in JK," Madhav said while announcing that they have dumped the PDP.