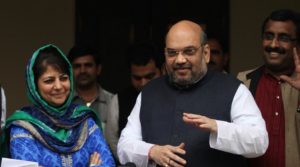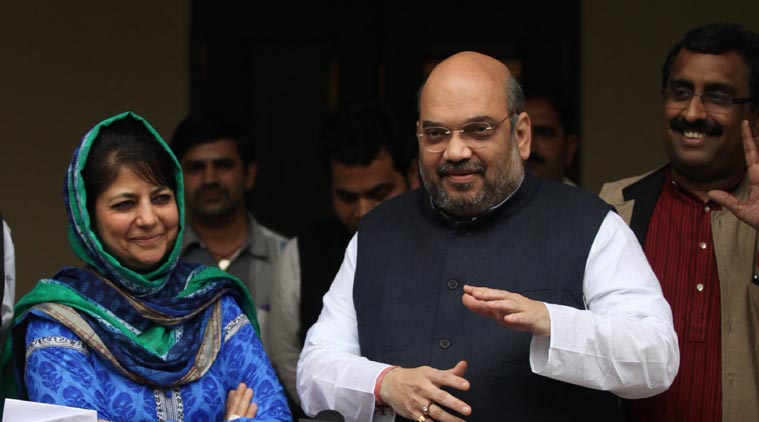 Srinagar: The Bhartiya Janta Party (BJP) has pulled out from its ruling alliance with the Peoples Democratic Party, thus paving the way for the President's rule in the state.
""Taking into account, the sovereignty and integrity of the country we have decided to part ways with the PDP," BJP general secretary, Ram Madhav, said.
"There were two major objectives when we joined the alliance – peace and progress in the state".
He claimed that "terrorism and radicalisation" were on the rise in the state.
"The murder of editor Shujaat Bukhari shows even press freedom is in danger. It has become untenable for BJP to continue in the alliance govt in JK," Madhav said during a press conference in Delhi. He was flanked by state BJP functionaries.
In what could be termed as sudden turn of events, the BJP called its state legislators on Monday evening to New Delhi to have discussion with senior party leadership.
BJP's Ram Madhav said he along with the legislators also held meetings with the BJP president Amit Shah on the issue.
"Today we had a special meeting for which our leaders were called and we discussed the situation in the state. We discussed the situation in J&K, and how much we've achieved since forming the government in the state. We have decided that it is not possible for the BJP to continue in the alliance government in Jammu and Kashmir," he said.
During the presser, the BJP said despite the Delhi offering Ramzan ceasefire, it was not not honoured.
"We had hoped separatist forces would cooperate in the Ramzan ceasefire. Separatists and militants did not reciprocate," he said.
The BJP also levelled charges against PDP that BJP ministers faced hindrances in discharging duties.
"Our ministers faced hindrances in discharging their duties in the last three years. People from Jammu and Ladakh were facing discrimination," Ram Madhav said.
BJP also praised centre for providing assistance to the state in last three years.
"Under the leadership of PM Modi, centre has actively assisted the state government. A 80,000 crore package was also announced and most of it has been disbursed," Madhav said.
Later, Dy CM Kavinder Gupta said that he along with other ministers have submitted their resignations to Cheif Minister Mufti.
"We have now come out of the J&K govt," he said.