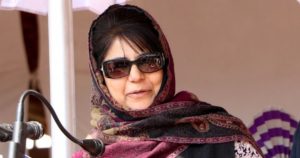 Srinagar: Chief Minister Mehbooba Mufti has submitted her resignation to the Governor soon after Bhartiya Janta Party (BJP) pulled from the ruling alliance with Peoples Democratic Party (PDP), senior leader of the party and cabinet minister, Nayeem Akhtar said.
@MehboobaMufti has submitted her resignation to the governor after @BJP4India pulled out of alliance.

— Naeem Akhtar (@shangpal) June 19, 2018
Deputy Chief Minister, Kavinder Gupta had earlier said that all the BJP ministers have handed over their resignations to Chief Minister Mehbooba Mufti.
The BJP has pulled out from its ruling alliance with the Peoples Democratic Party, thus paving the way for the President's rule in the state.
""Taking into account, the sovereignty and integrity of the country we have decided to part ways with the PDP," BJP general secretary, Ram Madhav, said.
"There were two major objectives when we joined the alliance – peace and progress in the state".
He claimed that "terrorism and radicalisation" were on the rise in the state.
"It has become untenable for BJP to continue in the alliance govt in JK," Madhav said during a press conference in Delhi".