By Syed Tajamul Imran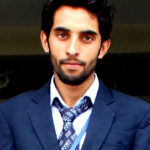 In 2016, my granny was not doing well, and because of that our family visited Srinagar frequently. While there, humiliation, torture, and abuse by cops was a daily routine we all had to face.
One day, after asking my Baba for permission, I wrote down these experiences in a piece titled "JKP: Friends or Enemies? The piece was published in a local monthly news magazine.
Once the magazine hit the stands, the editor got a call from some agency, asking about my details. I also got a call asking about the incidents, and if everything I had mentioned in that article had been authenticated. But even after sending them all the details, they barred the magazine from publishing any other of my write ups.
A few days ago, it was slow at the office because of an internet shutdown which happens often because of protests over barbaric incidents happening in the Valley day in and day out. In the late afternoon, I got a call from a friend who was at SKIMS Soura and needed my help. Concerned about his well being, I asked another friend to accompany me to SKIMS.
After confirming that vehicular movement was allowed through the Jamia Masjid area of downtown, we were on our way. Once we had left Khanyar, we were stopped by cops and asked to go a different route. But we insisted, and they finally allowed us to travel via the Jamia Masjid.
Near the Islamia College we were once again stopped, but this time by CRPF troopers. I got out off the car and asked them to let us go, but they abused us in the worst language instead. I told them that we had been allowed to pass at three consecutive places along the same route. I also asked why they had stopped a dozen of vehicles or so, including bikes, when everything was normal.
Suddenly they started shouting at me, waking up several Jammu Kashmir Police (JKP)  cops who were resting in a Tata Sumo nearby. They came over, and without even enquiring what was the matter, they started abusing, assaulting and humiliating me and other people there. I begged them to listen to my problem and told them what had actually happened. But the policemen, looking even more brutal than usual and more loyal than the king, became even more abusive than their brethren in the CRPF.
JKP cops who were resting in a Tata Sumo nearby, came over, and without even enquiring what was the matter, they started abusing, assaulting and humiliating me and other people there.
The policeman in charge started abusing, hitting and kicking me, and when asked by the people why he was beating me, he replied that he was only doing his duty.
I then called the Senior Superintendent Police (SSP) Srinagar on his official number and told him about the whole episode. He asked me to wait until he had spoken to the cops, or until he could send the concerned SP to the spot. As soon as the policeman there came to know that I was talking to his boss, he shouted, "Who is he? I don't talk to anybody. Do whatever you want. "And then he started abusing me again.
After a few minutes, I got a call from the concerned SP who assured me that he would look into the matter and get back to me. Finally, Allah saved us from them after people there kept insisting that they let us go. Once I had left the spot, I texted to the SSP Srinagar that somehow my life had been saved, but that all of it was unacceptable. He assured me that he would definitely take action.
Later and after a volley of text messages, I finally wrote that 'Justice delayed is justice denied. Will pen down the experience soon Insha Allah. But above all the JKP seems to be more brutal and unethical than non local cops."
A few days ago, something similarly unpleasant happened while we were travelling from Srinagar to Islamabad to participate in the marriage ceremony of a friend. A group of cops from the local SOG stopped us at Khanabal. A policeman then asked us "What is the update from Shopian?" (An encounter was going on there).  I replied that I was unaware of it and didn't know anything.
A policeman then searched our car, shouting, "Do you too want to get activated (as in become a militant), go ahead and join!" I am unable to remember his exact words or the meaning of what he really wanted to convey. We could only wait patiently despite their dehumanizing behavior and verbal assault.
When he asked about my profession, I said I was a social activist. For him an activist was obviously someone who activated and motivated youth to join rebels. He never understood what it really meant.
After wasting about half an hour testing our patience, finally we were allowed to go.
These two incidents are very small, and only part of so many others suffered by the common man in Kashmir. They are nothing compared to the constant and much larger humiliations we face at the hands of security forces day in and day out.  And then there are people who wonder why we do not adequately mourn the death of a cop!
All the cops who have abused and even thrashed me throughout my life are always on my mind. Their images never leave me for a minute.  The day these cops depart this world for whatever reason, I as part of a society that faces daily humiliations at their hands should not be castigated for not mourning their death, whether natural or not, the way some feel I should.