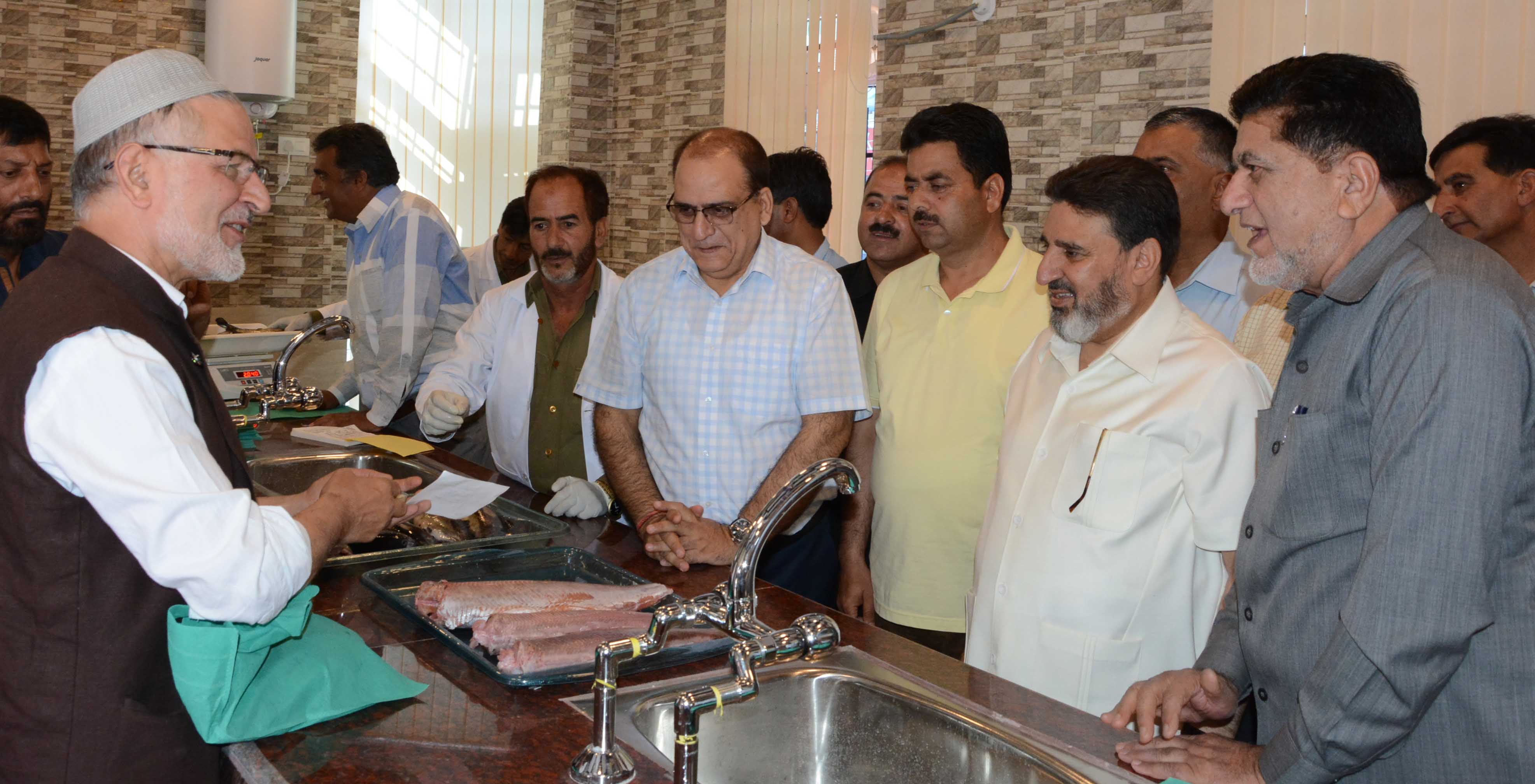 Srinagar: Minister for Animal, Sheep Husbandry and Fisheries Abdul Ghani Kohli and Minister for Finance Syed Muhammad Altaf Bukhari on Wednesday inaugurated hygienic fish market at Hari Singh High Street here today.
On the occasion, Kohli said that the retail fish market has been constructed at an estimated cost of Rs 29lakh at a centrally-located place where people from different walks of life would have an easy access for purchase of fresh fish.
The Minister said the market is equipped with all latest equipment like deep freezers, air conditioning facility etc.
He said this market will cater to the need for sale and produce for the private entrepreneurs, as well as the fishermen community. Moreover, the market will also cater to the requirement of the Departmental Trout Units for sale of the sealable size fish, said the Minister.
On the occasion, the Ministers were informed that to increase the fish production, the Department has taken a number of steps by way of constructing fish farms particularly Trout Rearing Units throughout the State.
It was said that there are 53 Trout Rearing Units and 19 Carp Fish Farms throughout the State under Government Sector and in view of the vast scope of employment generation; the department has privatized the Fish Culture in the State due to which a number of units both under Carp as well as Trout culture have come up.
The Department has established 515 Trout Units and 1039 Carp Units in Private Sector, the Ministers were informed.
The Ministers were apprised that in view of the increasing demand of fish, the Department has already established Retail Fish Sale Outlets in different Districts including Kathua, Rajouri, Anantnag, Pulwama, Kupwara and now in Srinagar.
The Ministers directed the concerned to keep available an adequate quantity of fish in the market for the people in view of forthcoming Eid-ul-Fitr. They also directed them to deploy mobile fish vans ready for the convenience of the general public in different areas of the Srinagar city.