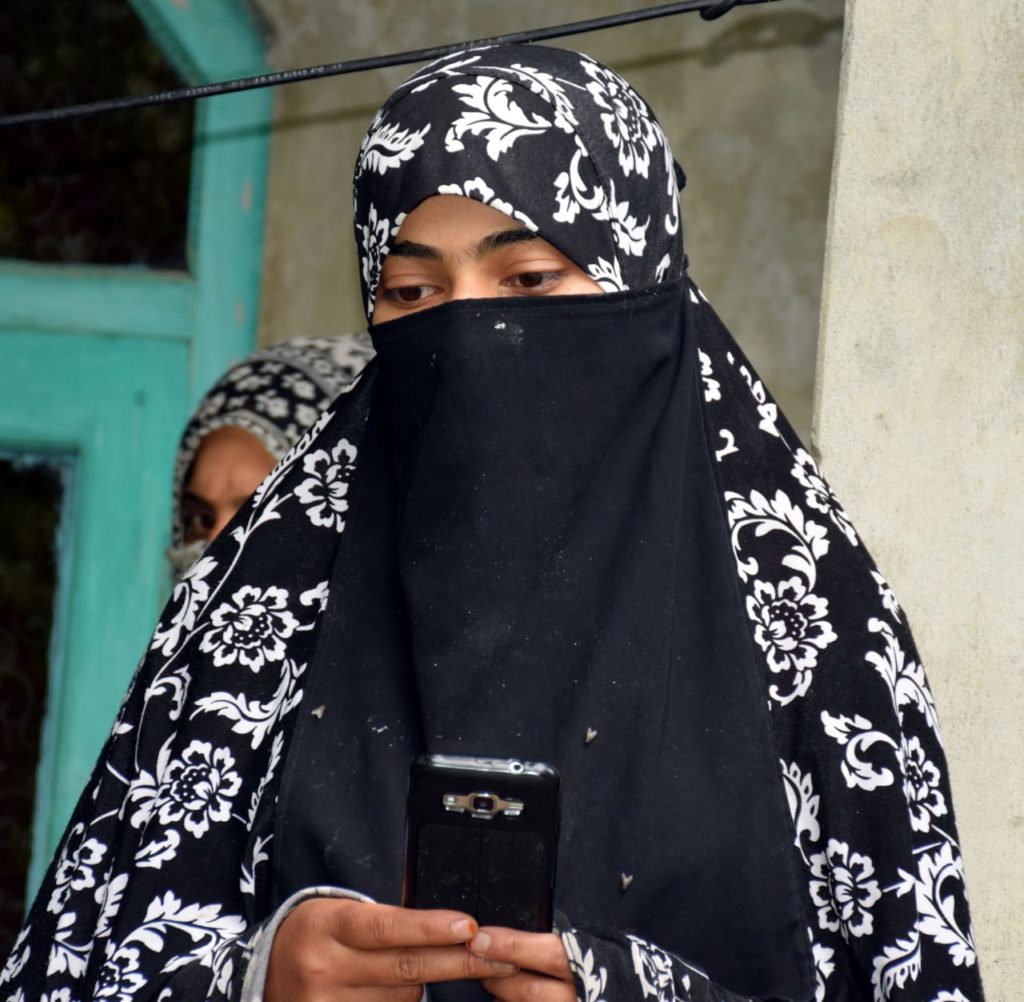 Shahzada, the girl who refused to persuade her brother for surrender. Pic:  Qayoom Khan 
By Mufti Islah
Jamnagri (Shopian): A video where purportedly a young Kashmiri girl is seen declining an army man's persuasion to get his militant brother to surrender has provoked torrent of responses in the social media.
The girl, in a veil, has been hailed in the social networking sites in Kashmir for the "open and unheard defiance" to stand her ground against government forces. A very few though have been critical too with her "militant" views.
Shot apparently by the army a month back, the video records a no holds barred conversation between the militant's family and the army man who asks them to effect their son's surrender "since he has gone in a wrong direction"
The army man siting near the militant's father on a verandah of a house is politely told by a young girl (sister of the militant) that she will rather want his brother to be dead than give up.
"It he returns home, I will martyr him with my own hands," she tells the army man in the 1-minute and 42-second video clip.
"If you ask him, then he could surrender. If we (Army) ask, he won't surrender," the trooper says to the family.
The girl says her brother has left in the path of Allah and his family would not call him back."
"He has left out of his own volition. If he thinks he is on right path, so be it. We have no business in this? I want to see his face only after his martyrdom," the girl says.
Another army man is then seen joining the conversation wondering why he (militant) took up arms and the girl thunders back asking why were they (army) carrying guns.
"We pick up gun for the security of the nation," says the Army man.
In response the girl says, "If he (militant) doesn't take up weapon, then how would God accept his sacrifice. You can't martyr him unless he picks up gun and proves that he is on God's path. Only after that you (Army) can take his life."
Three days after the video went viral in social media, News 18 traced the family to Jamnagri village of Shopian. We caught up with both Abdul Hamid, the father and Shahzada, his daughter, and enquired about what had happened when the army men came calling home.
Hamid says the army had come for his 19 year old son Adil Ahmad Wani, who had joined the Kashmir chapter of ISIS around last September. Police says the group has few cadres and recently three of its operatives were disarmed by a rival militant group because of some "ideological" issues.
"This video was shot by armymen… this was few days before Ramzan. There were some 20 army men who came to the village. Three entered the compound of the house and asked us to ensure Adil surrendered," said Hamid, also seen in the video sporting a green skull cap.
"They spoke to us politely and we gave our point too," he said, adding the family is used to army and police raids since there son left to become a militant.
"They have not been harsh but do keep on telling us to ask him to surrender," he said.
Shahzada recalled the conversation between the family and army men lasted for more than 15 minutes and was not as short as the video clip.
She said she told the army men that "Kashmiris youngsters were picking up guns not because of fun because there was no resolution to the conflict and they were being pushed to the wall."
"Even if we demand our right to aazadi in non violent ways, police fires pellets and bullets on us. Our young boys have been left with no option but to pick up arms and wage jehad," said the 21 year old veiled woman.
Shahzada has received Islamic education from a seminary in Poonch.
"Kashmris are peaceful and if the resolution of the issue comes through a dialogue there would be no blood letting. Look at the situation. How many youth have been killed in last three years only and how many are picking guns," she said.
Incidentally, her home is not far away from the two villages of the Shopian where 20 militants were killed in April.
The apple rich district has seen close to 100 out of 467 youngsters join militancy in the last eight years according to a police confidential report.
Lt Colonel Rajesh Kalia, Srinagar based army spokesman, while commenting on the video said army exhorting the families to callback their wards is a government's stated policy to get back our misguided youth.
Jammu and Kashmiri Director General of Police S P Vaid told CNN News 18 that families of the militants should use the ceasefire to call back their sons who have joined militancy. `
`That would contribute to over all peace in the valley," Vaid had said.
Shahzada, however, repeated that she will never ask his brother to return. `
`I will celebrate his martyrdom because his cause is bigger than one family. I will also urge all mothers and sisters not to appeal to their sons to give up. Instead they should support them and bolster their morale rather than weaken them by emotional pleas," she told News 18.
This story was published in CNN-News 18 Tv channel