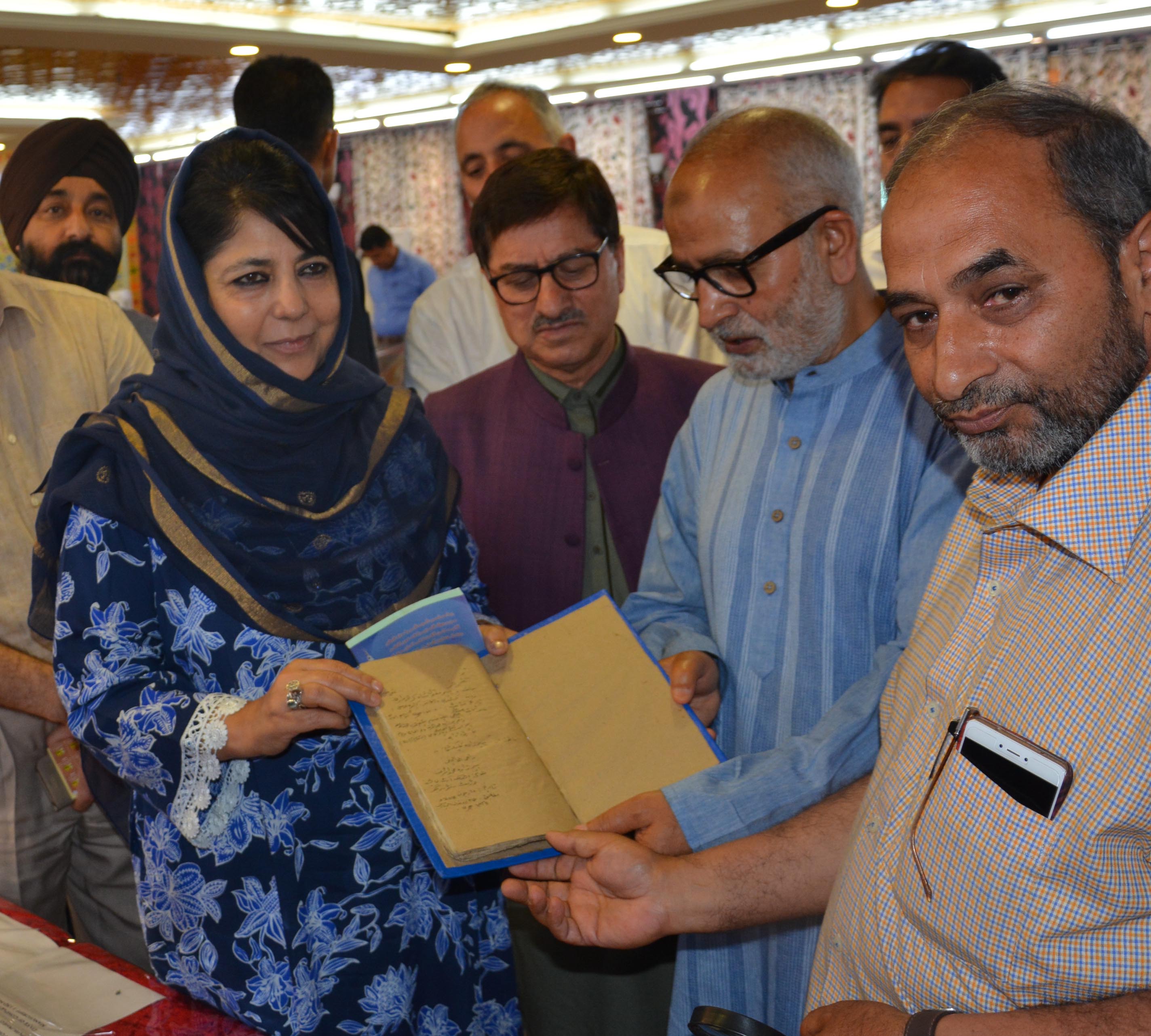 SRINAGAR, JUNE 10: Chief Minister, Mehbooba Mufti on Sunday urged people to come forward and "donate pieces of art and heritage" to the academy so that they are preserved for and shared with posterity.
Mehbooba said while visiting the ongoing exhibition of Islamic art objects and rare Quranic manuscripts being held at Tourist Reception Centre, Srinagar.
She complimented the Cultural Academy for successfully organizing the Ramadhan programmes across the State and also for its efforts to preserve, promote and maintain the cultural leanings of the society.
Titled Sheerin Qalam, the five day exhibition (7th-11th June) has been organized by the Jammu and Kashmir Academy of Art Culture and Languages (JKAACL) in collaboration with the  Directorate of Archives, Archaeology and Museums, Directorate of Tourism, Directorate of Libraries besides some private galleries in the State like  Shasvat Art Gallery, Jammu, Peerzada Collections and Hakim Collections, Srinagar.
A large number of rare documents representing various artistic forms of Quranic calligraphy and vellum panels have been displayed in the exhibition.
The calligraphy include a hand written Quranic manuscript of 1300 hijri, Quranic manuscript written during the reign of emperor Jehangir, Quranic manuscript written in gold blended ink, correspondences of the Holy Prophet (SAW), commentary of Holy Quran in local calligraphy by Fataullah Kashmiri of 1237 and other hand written commentaries of the Holy Quran dating back to early times.
Rare manuscript in Tuluth style with walnut wood binding dating back to very ancient times, sharhi Awradi Fatheia compiled in khate Nastaleeq in 1270, Qaseedah Hafiz al Qumri in khate Takh in 1240,   gold-illuminated Shajra-Maqadasa of Islam's prophets, a Quran dated 961 AH which is handwritten on Samarqandi paper and a Persian translation of the Quran by Mir Saeed Andrabi in 1850 are among others rare manuscripts put on display in the exhibition.
The CM, who is also the President of the Academy, evinced keen interest in the manuscripts put on display and directed taking measure for their proper upkeep and maintenance.