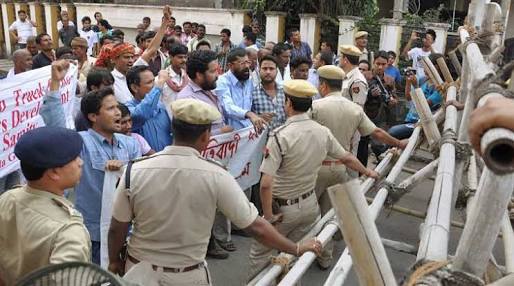 Delhi: Assam Police on Sunday claimed to have arrested 15 people for their alleged involvement in the "lynching" of two men in Karbi Anglong district of the state on Friday, media reports said.
On Friday two persons Nilotpal Das, 29, a sound engineer, and his friend Abhijeet Nath, 30, a businessman, we're killed by the mob after were attacked by mob on suspicion of being child lifters.
Reports said that Das, had came home recently and on Friday had left with his friend Nath for Kangthilangsho, a picnic spot known for waterfalls, and were on their way back when they were attacked.
The SUV in which they were travelling was also badly damaged by the mob.
Police said that ten more people have been detained in night raids and have detsined another person on charge of spreading misinformation on Facebook about the presence of child lifters in the area.
Rumours about child lifters reportedly led the mob to target the men, who were on way to home.