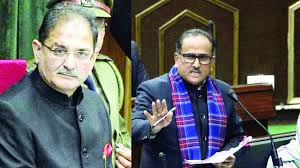 JAMMU: Deputy Chief Minister, Kavinder Gupta on Thursday said that the city is emerging as an epicenter of attraction for visitors coming from within and outside the state.
Addressing a gathering after inaugurating a Shopping Mall here at Akhnoor Road, Dy CM said the city has witnessed phenomenal transformation with emergence of world-class business establishments within and its peripheries.
"We are happy to see new business places coming up in the city and it's a welcome development for our region as such places become attractions for tourists", he added.
Kavinder Gupta hoped that the newly established mall shall prove a good place for complete shopping for the people of Jammu city as well as for the tourists.
Advising the management to ensure customer satisfaction, the Deputy Chief Minister asserted that quality is very important in the hospitality sector and the management would surely provide quality products and world class hospitality to the customers.