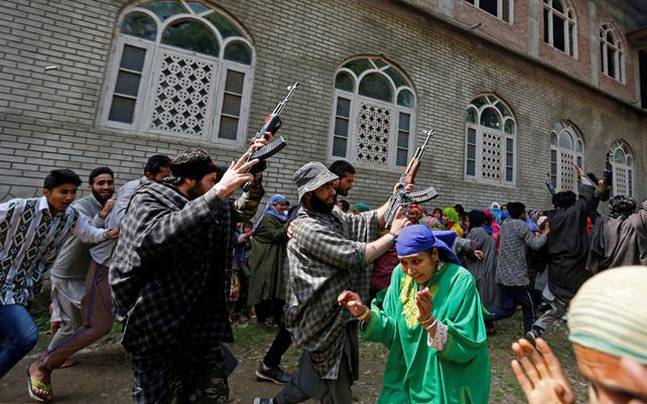 Srinagar: Despite a halt in security operations during the month of Ramzaan, violence has witnessed a massive spike, with a 30 percent rise of militancy related incidents in Kashmir's hinterland as compared to the past 20 years.
A senior police officer in charge of keeping track of militancy related violence told The Kashmir Press that 88 incidents of such violence were registered until May 31 of this year.
"Out of that number, 34 incidents were registered during the past 20 days of the Ramzaan ceasefire," the official said.
"It means that 30 percent of all militancy related violence took place during the past 20 days. It also includes those incidents involving protests and subsequent injuries from actions of government forces."
Delhi had announced a unilateral halt in security operations with the onset of Ramzaan, believing that it would end militant recruitment and help in normalising the situation.
According to the data compiled by The Kashmir Press, 30 militancy related incidents were witnessed in the past 20 days after cessation of hostilities was announced by the government.
More than 24 attacks were executed by militants, including 15 grenade attacks, 3 improvised explosive devices (IED) blasts, and six incidents of rifle firing. Six incidents of gun snatching also took place and five persons have been killed.
At least 50 people sustained injuries in 15 grenade attacks across Kashmir. Most of the attacks took place in South Kashmir, followed by Srinagar, where militants have carried out attacks in the city centre and downtown area in recent days.
Suspected militants hurled a grenade at a police party in South Kashmir's Shopian district on May 28, leaving 12 people injured, including 4 policemen and 8 civilians.
This was the highest toll of injuries in a single grenade attack since Delhi had announced a halt in security operations in Kashmir.
During the same night, militants attacked an army camp at Kakapora Pulwama, killing one army man and one civilian allegedly in cross firing.
Similarly, on May 24, at least 10 people were injured in South Kashmir's Bijbehara after suspected militant's hurled a grenade.
On the same day, an IED blast took place at Sugan village of South Kashmir's Shopian district and 3 three army men were injured.
Apart from the above, militants also launched attacks on policemen.
On May 30th, Special Police Officer Aqib Ahmad Wagay succumbed to his injuries. He was posted at Pulwama.
The militants also snatched six weapons during that time and carried out scores of botched up attempts to snatch rifles.
It forced the police to issue an advisory to its forces to ward off weapon snatching incidents, which included the stopping mobile phone usage while on duty
Later, during clashes with government forces at the Jamia Masjid, 70 persons sustained injuries because of pellet and tear gas shelling. More than 20 youth received pellet injuries in their eyes.
There were also reports of the army resorting to excesses despite the imposition of ceasefire.
On 28th May, after an IED blast had injured 3 army men at Sugan in South Kashmir's Shopian district, locals alleged that army men went berserk, ransacking dozens of houses, and damaging orchards, inflicting damages worth millions.
The house of Hizb Militant Zeenatul Islam was also ransacked and the family has alleged that government forces stole cash, a laptop and a mobile phone from his house.
There were also reports that government forces allegedly tried to burn down the house of another militant from Pulwama, and desecrated the grave of slain militant Sameer Tiger.
The army and the police have refuted these allegations.
In perhaps the most shocking incident, a CRPF vehicle mowed down three youth at Nowhatta, resulting in the death of Qaiser Amin of Fateh Kadal Srinagar. Dozens of others were injured on the same day.
On May 26, unknown gunmen barged into the house of Mohammad Yaqoob Wagay in Hajin and chopped his head off in front of his seven -year-old son and wife.
Other than that, 36 persons were killed including militants in Jammu and Kashmir during cross border shelling and encounters along the Line of Control (LOC)