Srinagar: Young Kashmiris living in the United States of America (USA) recently organised a fundraising event for pellet victims of Kashmir on New York City's Madison Avenue.
On May 30, the organisers held an Iftaar party, titled 'A Kashmiri Iftar', with the aim to raise funds for Kashmiri children who had become victims of 'indiscriminate' pellet firing by the 'Indian forces' in Kashmir during political protests.
One of the organisers of the event told The Kashmir Press that some of the Kashmiris living around New York hosted the fundraiser Iftaar which was attended by at least 100 persons.
"We made home cooked Kashmiri food and had nun chai (salt tea) as well," the organiser, an academic by profession, said.
In addition, there was a special performance by Sufi musician, Amir Vahab, who is famous in the New York music scene as the "ambassador of silenced music', the participant added.
The minimum donation requested from each attendee was fifty dollars and the entire amount raised has been donated to the victims
The money collected during the fundraising event will go to the organisation Revive Kashmir.
Revive Kashmir works with local Non Governmental Organisations (NGOs) in Kashmir to rehabilitate those who have become partially or fully blinded because of pellets fired by the forces during protests or encounters.
During the fundraising event, Samma Ishaq Hafeez, an active member of Revive Kashmir, said she spoke about the conflict, pellet gun violence, the volume of blinded/low vision patients in need of dire assistance, and the lack of low vision/blind healthcare specialists and counsellors in the Valley.
She said all the funds collected during the Iftaar fundraising event went to Project Noor (Light), which is a Revive Kashmir initiative.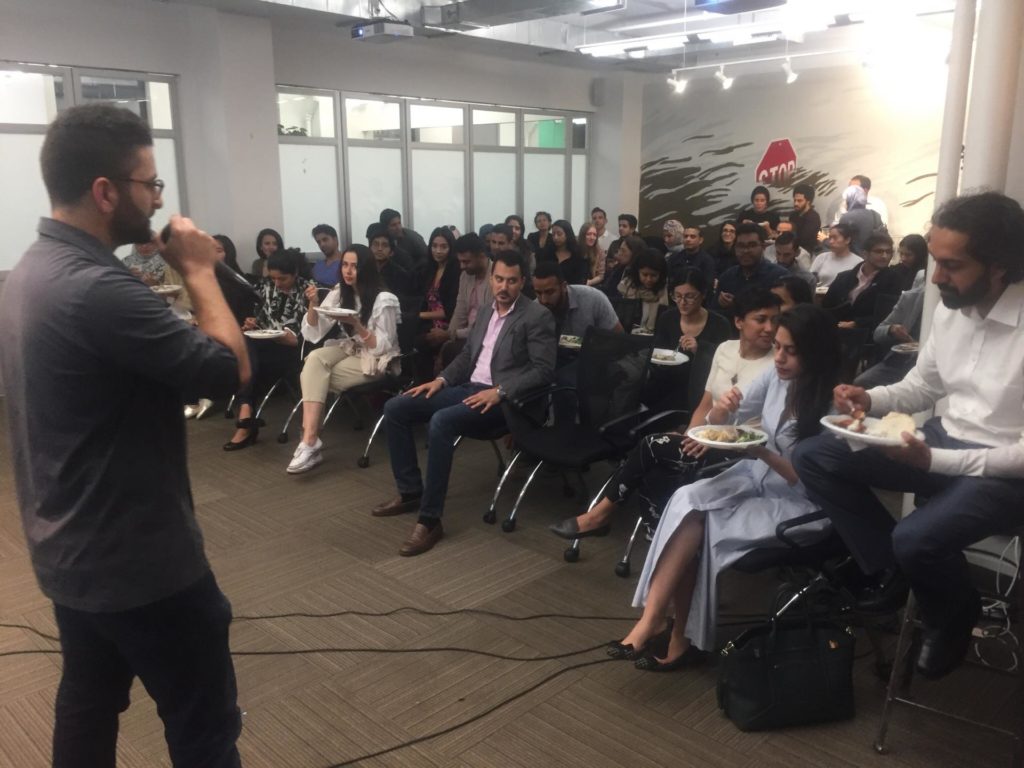 "It is focused on supporting Kashmir's unprecedented rise of low vision and blind patients that emerged from the 2016 Kashmir Crisis when Indian armed forces imposed strict military curfew in the region and orchestrated a deliberate campaign to shut down nearly all business activity, schools, universities, and tourism with the clear intention to psychologically, economically, and physically wipe out swathes of innocent civilians under the guise of "security" and "terrorism," Samma told The Kashmir Press.
She further said that Revive Kashmir responded during the crisis in Kashmir by providing surgical kits to local hospitals for eye surgeries and travel and incidental assistance to patients who were sent to Hyderabad's LV Prasad Hospital for more complex cases.
Ever since the anti-India protests of 2008, hundreds of Kashmiris, including women, have received pellet injuries in their eyes during clashes with government forces.  Many among them have been blinded in both eyes.
Insha a 17 year old girl from Shopian who became the face of the 2016 uprising lost both her eyes when an Indian trooper fired pellets at her when she was watching a pro freedom procession from her window. Both of her eyes were eviscerated.
Over the past couple of years, more than 15000 Kashmiris were injured by the pellets, lead coated metal balls, fired from shotguns.
The pellets have left over 400 young boys and girls in Kashmir partially or completely blind.  Around 14 percent of the pellet victims are below 15 years of age.
The paramilitary CRPF, in an affidavit, told the J&K High Court that it fired 1.3 million pellets in 32 days after July 8, and it fired 8,650 tear-smoke shells in addition to 14 types of "less lethal and nonlethal" munitions, such as oleoresin grenades, pepper balls, stun grenades and electron shells.
What the officer called "nonlethal munitions" is an arsenal internationally recognised as chemical weapons and banned in many countries.