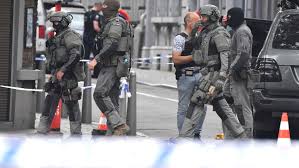 An gun man on Thursday killed two policewomen and a passerby in the Belgiun city of Liege before being shot dead in a gun battle at a school, AFP reported.
The attacker identifies as a 36-year old, was freed a day before from prision.
The media reports said that one of a policewoman was attacked from  the back sideby the attacker with a knife. "Later he shot dead both of them from their handguns, after stabbing them.
"The man then took shelter into a high school where he took a woman employee hostage, triggering a major intervention by armed police," reports saiud.
Following this the forces evacuated the people who were residing inside and exchanged the fires with him which turned into the gunbattle. During the gun battle scores of policepersons were injured.
However the attacker was finally killed during the encounter.