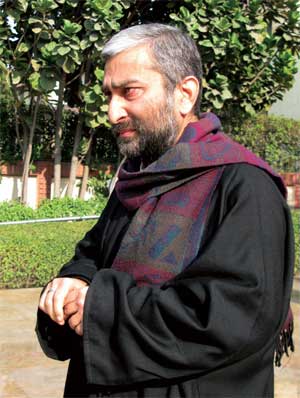 Srinagar: A glance through controversial Sushil Pandit's Twitter timeline brings out shocking revelations- he harbours 'anger' and 'hate'against Kashmiris, Muslims and Islam.
And he does not feel ashamed about it.
On his Twitter profile, Pandit introduces himself to the world as a "Kashmiri Hindu" who is allegedly "exiled, in my own country!"
In his writings though, he claims he is a "student of Media and Politics, makes a living by managing communication for brands and issues, interested in and active among Kashmiris expelled from Kashmir".
Pandit, owner of Hive Communications India Pvt. Ltd, has also worked as media strategist for the ruling Hindu nationalist Bharatiya Janata Party (BJP).
In Kashmir, the news-thirsty people often watch him spewing fire and spitting venom against Kashmiri Muslims, Islam and Pakistan on Indian television channels in prime time debate programmes.
On 21 May, the controversial Pandit courted yet another controversy by tweeting about a militant attack which never took place and falsely claimed that five CRPF (Central Reserve Police Force) personnel were "martyred" in this imaginary attack at Pampore in Kashmir.
"Just heard 5 CRPF jawans martyred in Pampore. #Ramzanceasefire is working, question is who is it working," Pandit tweeted while questioning New Delhi government's decision to put a halt to anti-militancy operations during the holy month of fasting, Ramzan, in Kashmir.
After his tweet which spread fake news, Jammu and Kashmir police swung into action and registered a case against him.
Pandit, notorious for his acerbic commentary, propaganda and falsehoods, does not care about facts. His Twitter handle confirms this.
He audaciously sends out a series of tweets with a communal tinge. His hatred for Kashmiri Muslims is no secret either.
Since April this year, Pandit has tweeted over 100 times covering a wide range of issues which include his hateful messages about the hapless Rohingya Muslim refugees and also a few tweets in favour of the people accused of raping a minor Bakerwal girl in Rasana in Kathua district of Jammu province.
On the kidnapping, drugging, gang rape and brutal murder of an eight-year-old Muslim Bakerwal girl in Kathua, Pandit wrote more than ten tweets which included a retweet from a right-wing Pandit organisation Roots In Kashmir with a link to an article titled Anatomy of Concoction.
"Anatomy of a Concoction: Since when asking for a CBI inquiry has become communal politics and shielding the 'rapists'? By @neelakantha Founder Member @RootsInKashmir," he posted on his timeline.
Pandit in his tweets terms the investigation into Kathua rape and murder case as 'witch hunt' to terrorize Hindus of Kathua.
None of his posts on Kathua condemn the act, instead he questions the happening of crime and accuses Mehbooba Mufti of picking Hurriyat "Henchmen" to dictate arrests of those involved in the crime,  "Repeatedly changing investigators and using handpicked #Hurriyat henchmen to dictate arrests was not to deliver #JusticeForAsifa but to terrorise an entire region and brutalise its population," wrote in his reply to the chief minister's tweet
In his view, the presence of Rohingya Muslims in Jammu is a "menace". He describes Rohingya's presence in Jammu as part of "Islamist expansion".
" #JammuKashmir is the litmus test if #India were to survive the predatory #Islamist expansion. But looking at how the #Rohingyas have multiplied there in the last 4 years under #SabkaVikas, we have already failed that test," he wrote.
Most of his tweets are anti-Muslim and anti-Kashmir.
Pandit also takes refuge in sarcasm to vent out his hatred for Kashmiri Muslims.
A sample: "Hindus were driven out of #Kashmir by Jagmohan just as Mumbai attack was an #RSS plot, 9/11 was staged by the #Jews and the entire #Islamic world is an epitome of democracy, peace and plurality."
One could understand his grievance with resistance groups operating in the Kashmir Valley, but he also launches himself into a diatribe against pro-India leadership in Jammu and Kashmir which include Chief Minister Mehbooba Mufti, her father late Mufti Mohammad Sayeed, former Chief Ministers Dr. Farooq Abdullah and Omar Abdullah.
"After emptying #Hindus from the Valley, now Mufti declares war on Kathua to target the Hindus of Jammu. Is @BJP4Indiacomplicit?," reads one of his tweets which he posted after J&K Police had arrested "trouble makers" in connection with the controversy over rape and murder of a minor girl in Kathua.
In one of his tweets, he endorsed the views expressed by Ashoke Pandit, another Pandit known for his communal temperament.
Sushil Pandit retweeted Ashoke Pandit's tweet in which the latter had accused late Mufti Mohammad Sayeed of "unleashing an attack" on Pandits in Anantnag".
"#AntiNationalMehbooba is the right term used for her. The first exodus of#KashmiriPandits in 1986 was due to her father who unleashed an attack on us in Anantnag. As an opposition party they were a great support to #Hurriyat."
Pandit has no love lost for Omar Abdullah or his father Dr. Farooq Abdullah either.
In a post as a reply to junior Abdullah's tweet after the latter had called the news of killing of five CRPF personnel at Pampore as fake, Pandit retweeted a tweet of his organization Roots of Kashmir to attack Omar:
"Father Farooq Abdullah ensured ethnic cleansing of Kashmiri Pandits by taking no action against the perpetrators of Jihad and son @OmarAbdullah takes to bigotry to silence a prominent voice of @RootsInKashmir because they exposed the role of National Conference in exodus of KPs."
Pandit's love affair is not limited to Kashmiri Muslim politicians alone; he leaves no stone unturned to post hateful tweets against Muslims living in various parts of the globe.
On American President Donald Trump's hugely controversial decision to open embassy in Jerusalem that led to killings of over 60 Palestinian civilians, Pandit compiled this tweet: "
The reclaiming of#Jerusaleml by #Israel and its approval in #USEmbassy moving there is momentous. Now, it is time to roll back the genocide unleashed by #Jihad everywhere else too. No matter how old the adverse possession, or how frenzied and bigoted the resistance."
Pandit feels no shame in posting spiteful remarks on communal riots in various parts across India.
When two people were killed and scores injured in Aurangabad riots, Pandit tweeted:
"It was a Peaceful Friday in #Aurangabad. Only 100 shops gutted. Petrol bombs hurled. Lives lost. All, due to water cut-off to a mosque for the mounting dues. How insecure can a minority get! But, all the hyperventing anchors are busy rioting over crystal ball gazing in Karnataka,"
During communal tension between two communities in south Indian state Kerala's Mallapuram, he as usual blamed Muslims.
"In Mallapuram district of Kerala, Muslim youths throw stones on Hindu houses shouting Allahu Akbar. It is regular feature there. A silent ethnic cleansing is on in Mallapuram, Kannur area. Will it become another Kashmir?," he asked in his tweet.
Interestingly, in one of his tweets he also accused journalists of being "liars".
"When journalists and editors, claiming to be "eye witnesses" lie, to deny a genocide, and the #CJIofIndia himself slams shut the doorsOfJustice on the hapless victims and survivors, what options does it leave us, the exiled?," reads a tweet from Pandit that he posted on 28 April.
The question remains if Pandit is the 'preacher of hate,' why does he gets space in prime time shows, public spaces and also in the media? What for?