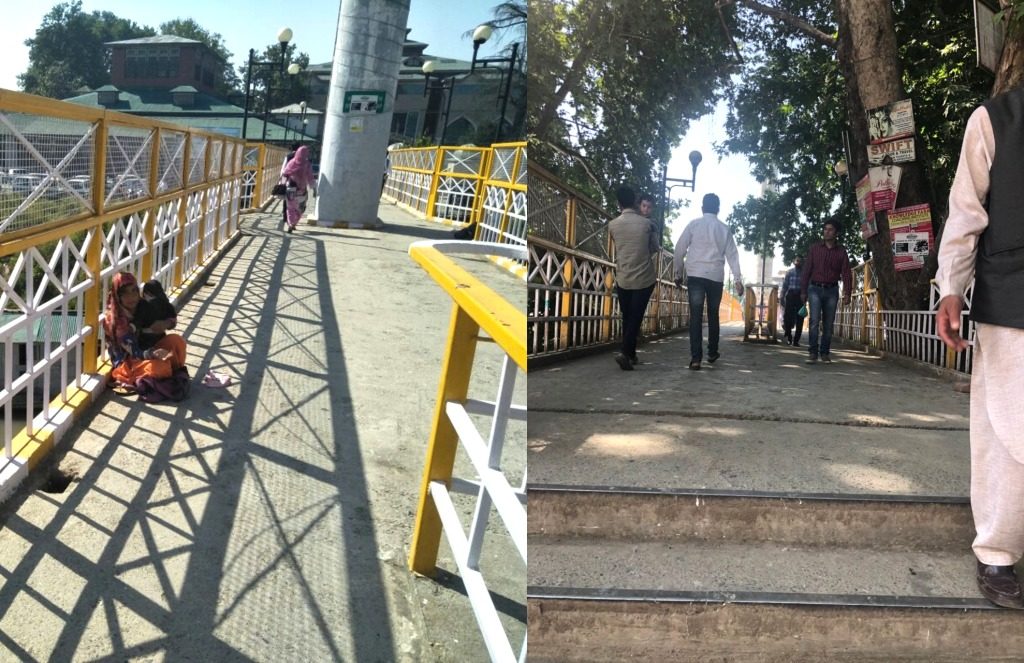 Before and after the beggars were cleared from the footbridge connecting Lal Mandi with Lal Chowk
Srinagar: Srinagar residents are heaving a sigh of relief on witnessing a considerable change in the nuisance of begging on the streets and bridges and at traffic signals in the summer capital after Deputy Commissioner Srinagar Syed Abid Rasheed Shah passed formal "orders for arrest of offenders soliciting alms on the streets especially at traffic signals" on 23 May.
Mostly, beggars from various parts of India like Bihar, Uttar Pradesh, Rajasthan, Gujarat, West Bengal etc occupy various parts of Kashmir to solicit alms, creating unease among commuters and pedestrians alike.
These parachuted beggars are often seen near the traffic signals causing inconvenience to commuters besides disrupting the smooth flow of traffic at busy roads.
Twitter users are showering accolades on DC Syed Abid after seeing a positive and visible change on the ground situation in this regard.
Tabish Naseer, a local, took to Twitter to thank DC Srinagar by writing: "While travelling out of city and on way back, I can see a considerable effect to a much greater extent of #Beggarmafia, which earlier had a display cards."
Syed Abid Rasheed Shah thanked Naseer for the feedback by posting this message on his Twitter timeline: "Thank you. Appreciate your feedback."
Another Twitter user Fahad Manzoor sent out this tweet: "Not even a single beggar on Hyderpora signal, thanks @SyedAbidShah you did a great job."
Senior television journalist Mufti Islah, who works as Bureau Chief for CNNNews18 in Srinagar, also praised DC Srinagar for the good work by writing "Thanks Abid bro" in a tweet.
He was responding to a tweet sent out by another senior television journalist Nazir Masoodi who works for NDTV 24/7 as Bureau Head.
Journalist, broadcaster and commentator Gowhar Geelani also took to Twitter to appreciate Syed Abid's action against the menace of begging.
"Swift action & good work by @SyedAbidShah in curbing the menace of begging (mostly parachuted beggars from various parts of India) in Srinagar city to a great extent. This needs a WILL to stop this menace. Brother Syed Abid has the WILL to make things HAPPEN. Kudos!," he wrote.
The ugly practice of begging gathers momentum and pace in the Kashmir Valley during the holy month of Islamic calendar, Ramzan.
Another citizen Rayees Ahmad Rather wrote: "Good move, this needs implementation throughout the Valley. Needy may approach directly (to) the respective Mosque Auqafs for help in a formal way. Make it compulsory for Auqafs to see the matter to help the poor."
A joke going around in Kashmir for many years is that "Kashmir is safe for beggars and tourists, but unsafe for the natives!"
Meanwhile, many citizens demanded that district administrations in other districts of the Kashmir Valley should also wake up to take similar measures to stop the practice of begging on Kashmir's streets.