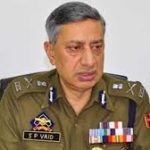 Reacting on the decision of Ramadhan ceasefire, Jammu and Kashmir police chief on Thursday urged families of local militants to take its advantage by persuading theirs sons to shun militancy.
In his recent tweet he said "taking advantage of fresh initiative of GOI during Ramadan, families of local militants should urge their sons to leave path of violence & join them to live peacefully . Wish them good luck".
Earlier on Wednesday, Union Ministry had asked for the ceasefire during Ramadhan.
However, LeT militant outfit in their statement has totally rejected the ceasefire.