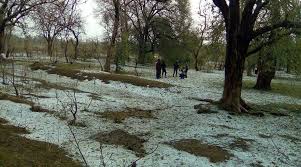 District Development Commissioner, Dr Shahid Iqbal Choudhary today directed the officials to assess the losses to crops and property in Thanamandi due to Hailstorm and cloudburst, on priority basis so that approval of compensation and restoration of public infrastructure is done on fast track basis.
The DDC said that instant relief and compensation was paid to 10 families for loss of livestock within a day. The authorities were pressed into action for assessment of losses to crops, orchards, livestock, farmland and public infrastructure enabling early restoration work.
Chief Agriculture Office Rajouri reported 100% loss to crop area of 475 Ha (Wheat growing), 961 Ha (Maize), 10.35 Ha (Paddy), 371 Ha (Vegetables) and 102 Ha (Fodder). It was decided that apart from loanee farmers covered under insurance, District Administration will release compensation as per assessment of committee.
Regarding livestock, DSHO intimated loss of 169 sheep and 21 goats to farmers. Furthermore, it was informed that nine large animals and 500 poultry birds died due to the hailstorm. Likewise, 3 fish ponds were damages where entire stock of fishes was damaged, it was revealed.
The DDC reviewed the restoration of vital supplies and infrastructure and directed the departments for early completion of works involving roads and lanes. PWD and PMGSY were also asked for early completion of restoration work. SDM was directed to put in the public domain the loss assessment and compensation recommended by the inter-departmental committee by 18th May 2018.
The committee of officers presented a resume of massive damages in villages Panghai, Shahdra, Majhoor, Hasplote, Thanamandi, Alal, Karyote, Azmatabad, Manyal, Baroon, Khanyalkote, Dhoke, Mangota, Chhurang, Rajdhani, Totamorah and Khablan. Moreover, damages were also reported in Kalkote villages viz Taryath, Khabbar, Harichumma, Mathiani, Treru, Jangrial, Malorian and in several villages of Darhal tehsil.
The meeting was attended by ACR Abdul Qayoom Mir, SDM Thanamandi Afzal Mirza, ExEn PWD Mushtaq Raina, ExEn PMGSY Zubair Ahmed, ExEn PDD Munshi Khan, ExEn I&FC, CHO, CAO, DSHO, Tehsildar, BDO, and officials of other departments.