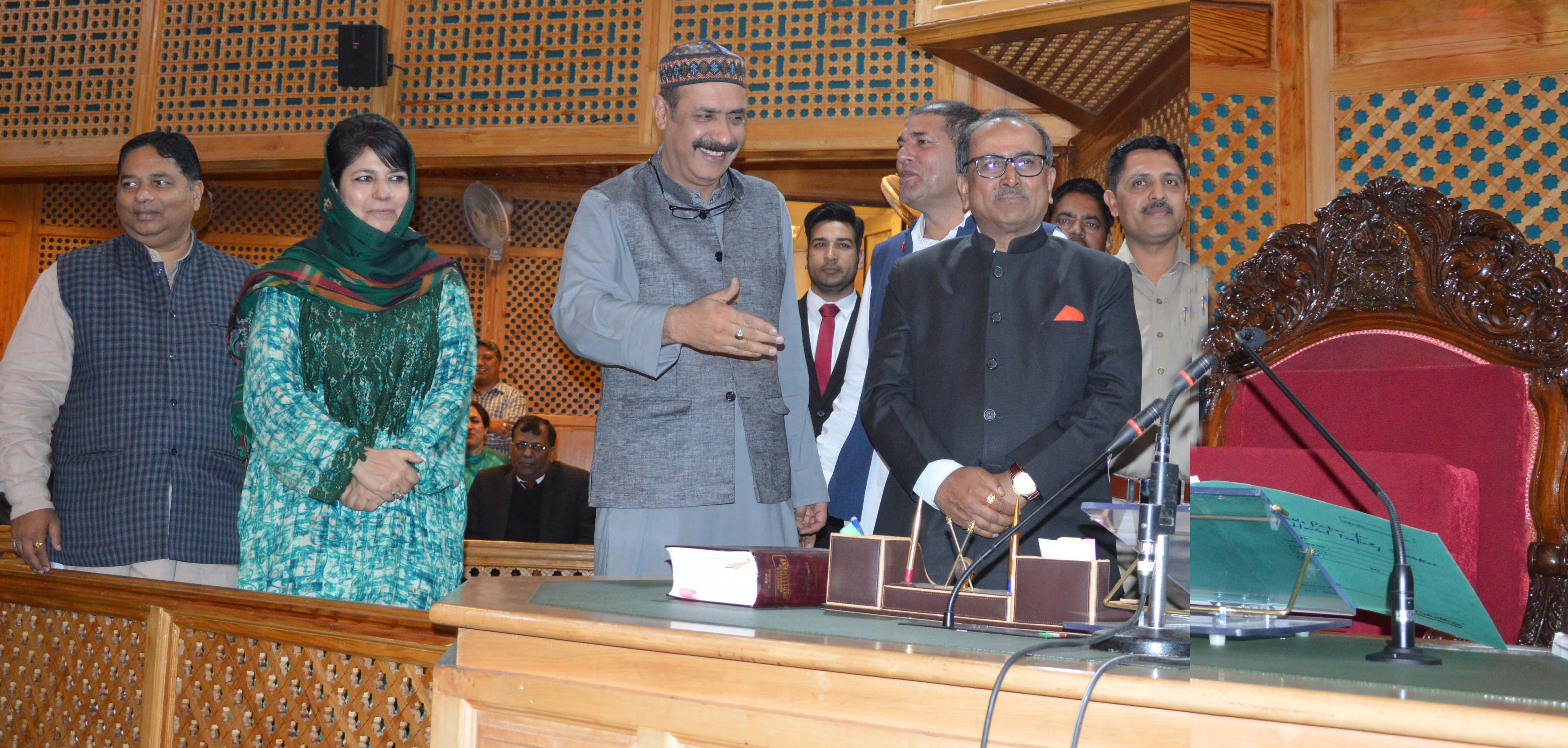 Former Deputy Chief Minister, Dr Nirmal Singh was elected Speaker of the Jammu and Kashmir Assembly on Thursday.
Minister for Law and Parliamentary Affairs Basharat Bukhari moved the motion in the Assembly seeking his election to the post, while Deputy Chief Minister Kavinder Gupta seconded the motion.
Addressing the House, Dr Singh urged all the members to cooperate with him in conducting the house in an impartial manner. He said that Jammu and Kashmir full of diversities and at the same time full of challenges as well.
"This House has a greater role to address the diversities and challenges of the State," he said.
"I assure you that I will rise up to the expectations of the members of the house and we will work in close coordination," he added.
Dr Singh complimented the role of the former Speaker and current Deputy Chief Minister, Kavinder Gupta for his unbiased role in the Jammu and Kashmir Legislative Assembly.
Meanwhile speaking on the occasion, Minister for Urban Development, Sat Pal Sharma lauded the role of Dr Singh as Deputy Chief Minister. He hoped that Dr Singh would play his role as Speaker with utmost dedication and commitment.
Dr Nirmal Singh, MLA from Billawar constituency, was elected with a voice vote.
The opposition had nominated Legislator, Usman Majeed as their candidate for the post of Speaker, whose name was proposed by MLA Abdul Majid Bhat (Larmi).
After the election, Dr Singh was taken to the Speaker's chair by Chief Minister, Mehbooba Mufti, Minister for Law and Parliamentary Affairs, Basharat Bukhari, Minister for Urban Development, Sat Pal Sharma, Deputy Speaker, Nazir Gurezi, Legislators, Mian Altaf, M Y Tarigami, Er Abdul Rashid among other members.