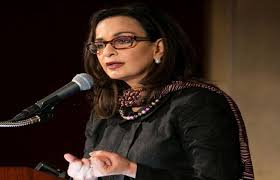 ISLAMABAD: Expressing concerns over the plight of Kashmir people, Senate Sherry Rehman, on Tuesday said that Kashmir has become the symbol of the lost conscience of the international community, and urged Muslim world, United Nations and the international community to look into it, Express Tribune reported.
Senator Rehman was chairing a conference organized by the Kashmir Institute of International Relations (KIIR).
She said that the international communities and the Muslim world should take a notice on plight of the Kashmiri and Palestinian people, the reports said.
She said that the international communities have turned a blind eye to these people who are caught in violence since last several decades.
She said that the people of Indian Occupied Kashmir (IoK) are facing suppression and coercion at the hands of the Indian state since last few decades and are caught in bloody violence.
"She expressed concerns over the silence of the Muslim world and said that we need to ask what the divided Muslim world is doing right now for the people of Kashmir and Palestine who are standing alone," reports said.
"Criticizing the Indian atrocities in Kashmir and the silence of the international community, Rehman said, "Indian democracy breaks a leg when it comes to Kashmir. There is a wall of silence, torture, discrimination and horrible sanctions against the Kashmiri people, who have become one of the most persecuted communities in the world".
There are two things here. Firstly, India has managed to contain the real story of the Kashmir issue. Secondly, India has set the narrative. This narrative is one whereby a legitimate political freedom struggle for inalienable rights to self-determination has been reframed as a terrorist movement, which is of course convenient to international powers.
Demanding end to the brutalities she said "Kashmir needs to be back on the international agenda. Despite the fact that the international community has acted as a mute spectator so far, we look forward to the United Nations waking up to the wishes of the Kashmiri's and Palestinians, and decide that they, too, have a right to self-determination," concluded the senator.